Home Learning During Closure
We aim to update the learning for each year group by Friday evening each week. Pupils should have new learning each week. You will need to click on your child's year group and then the appropriate week. You also have your child's teacher's email address. Please try to establish some kind of timetable so that your child is aware of expectations for learning. It will be easier if they agree the format with you. Enjoy family time together!
____________________________________________________________________________________________________________
July 20th - Summer holidays - keep busy and have fun!
We had our final group in this week - Y4. Pupils came in for a picnic and games on the field. We have also had Y5 in for the whole week. This means that all pupils have now had a chance to be in school for at least a short period of time. It has given them a chance to meet up with friends and to be reassured that everything is going to be fine back at school. Summer holidays! No learning but we are posting a few small activities which can be done as a family (see video below). You also have the Summer Reading Challenge, the Farnham drawing competition and a list of websites which are suited to various ages and subject areas.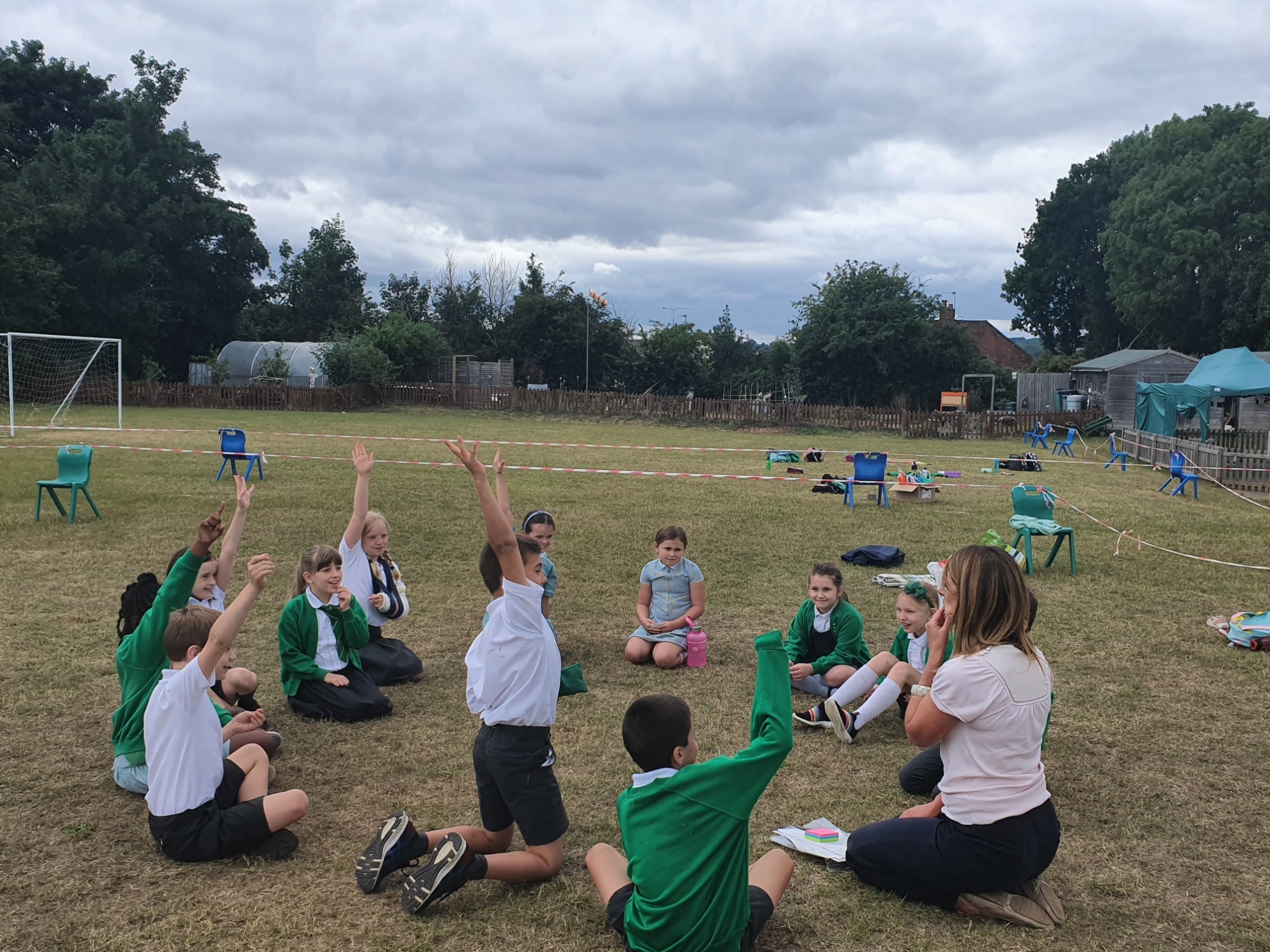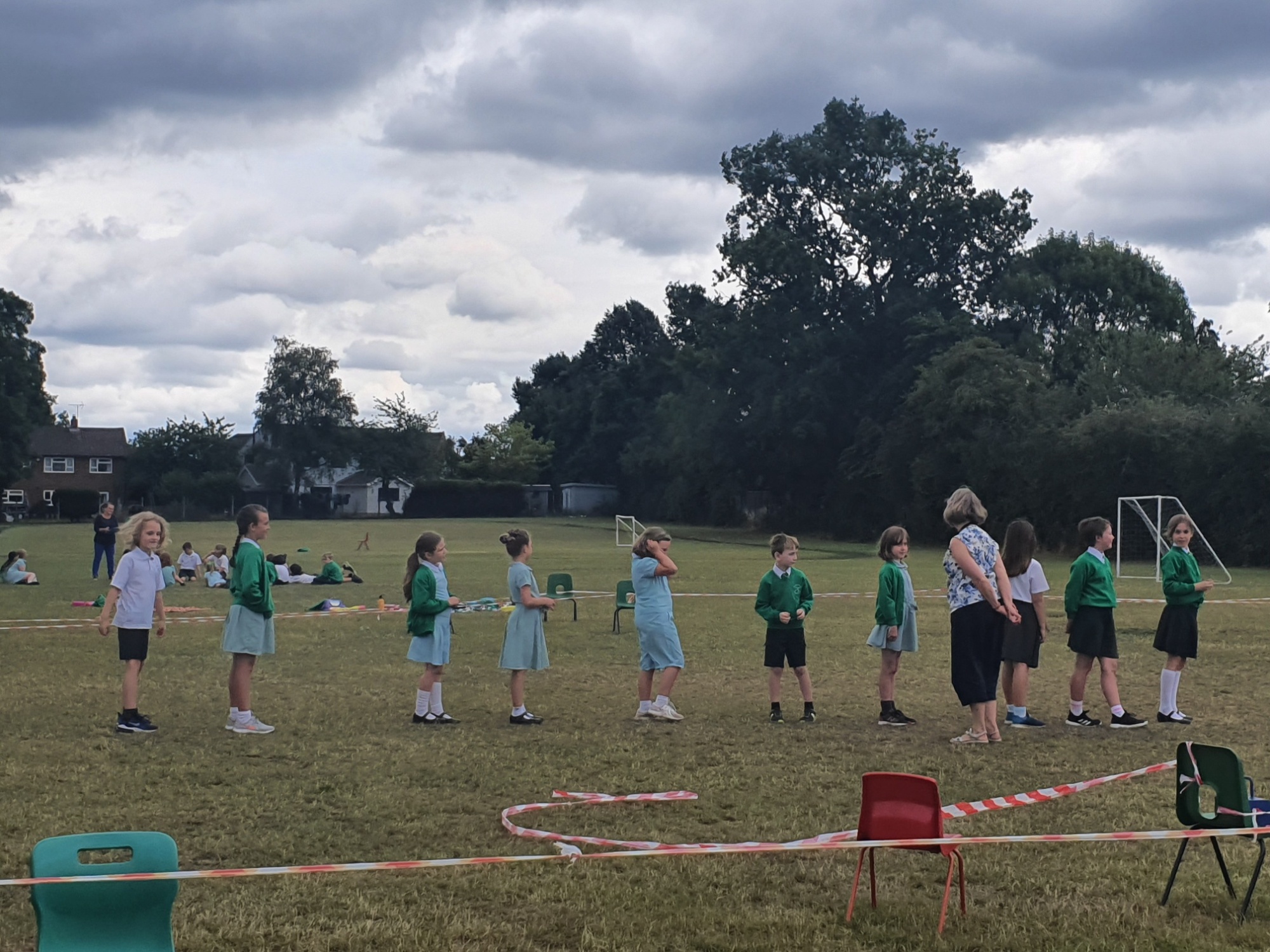 If you do wish to continue with some formal English and Maths learning, you can still find age appropriate learning and tasks on:
https://www.hamilton-trust.org.uk/blog/learning-home-packs/
https://whiterosemaths.com/homelearning/
July 13th: Week 14
It was great to have Y3 pupils back in this week. Once again, everyone was pleased to meet up with friends and to feel part of things again! Yes - it rained again but we managed to complete all of the outdoor activities without getting wet. Look forward to welcoming Y4 next week!
During this final week, Y3 and Y4 have posted some learning. We are really hoping that many of you will be entering the Spirited Art competition - you received full details earlier this week. You may send your child's entry in directly but do remember that the deadline is July 31st. The competition is a great opportunity to talk through ideas with your child and to let them express themselves creatively on their chosen theme. It is open to children from ages 3-19. We have set a reading challenge for all ages during the summer and would ask that children bring this back into school in September (see left). We shall also provide a list of websites that we feel will engage children. As families you will be enjoying being able to meet up with people and giving children opportunities to play. Next week we shall be communicating some ideas for ensuring that your child is ready with enthusiasm and positivity for September.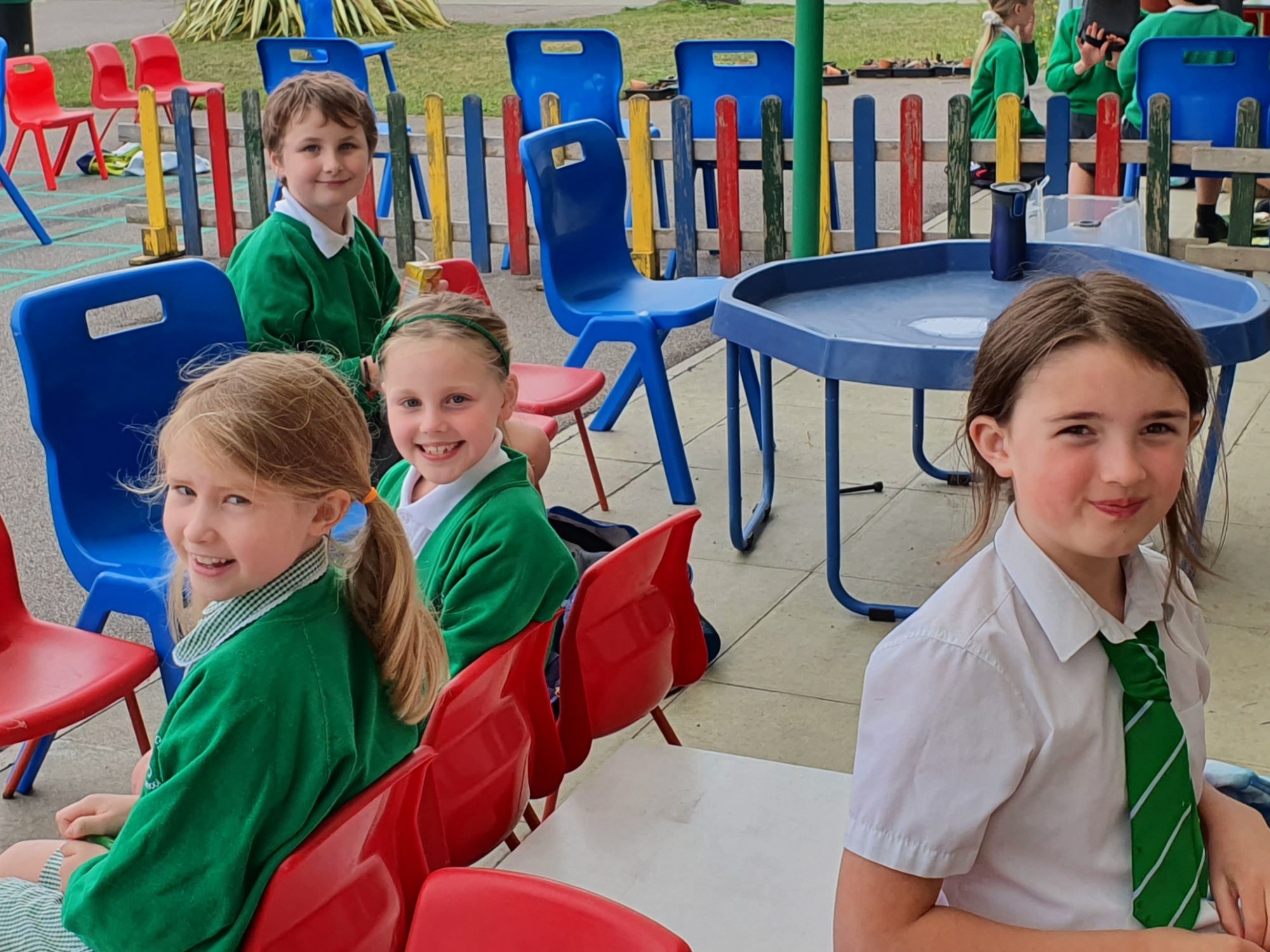 ________________________________________________________________________________________________________________
July 6th: Week 13
This week we welcomed back Y2 for the first of our three picnic afternoons. It was wonderful to see everyone again and children quickly settled down to chat with their friends. It rained on and off but that didn't prevent us from having a great afternoon!
We are on Week 13 for school learning. Go to your year group and click Week 13. We shall not be posting next week as it is the last week of term and we shall be covering other aspects of learning in school as we invite Y5 in for the final week. One of these is the international Spirited Art competition. We shall post details so that home learners can also participate. We shall also post some activities which children can be engaged with over the long summer break. Do still feel free to contact your child's teacher if you need support. This week we have posted some useful information and activity packs about how to make sure your child stays safe if they are GAMING at home. All resources are age appropriate - from age 4+. This week's assembly: St Peter's Day has been mailed to families.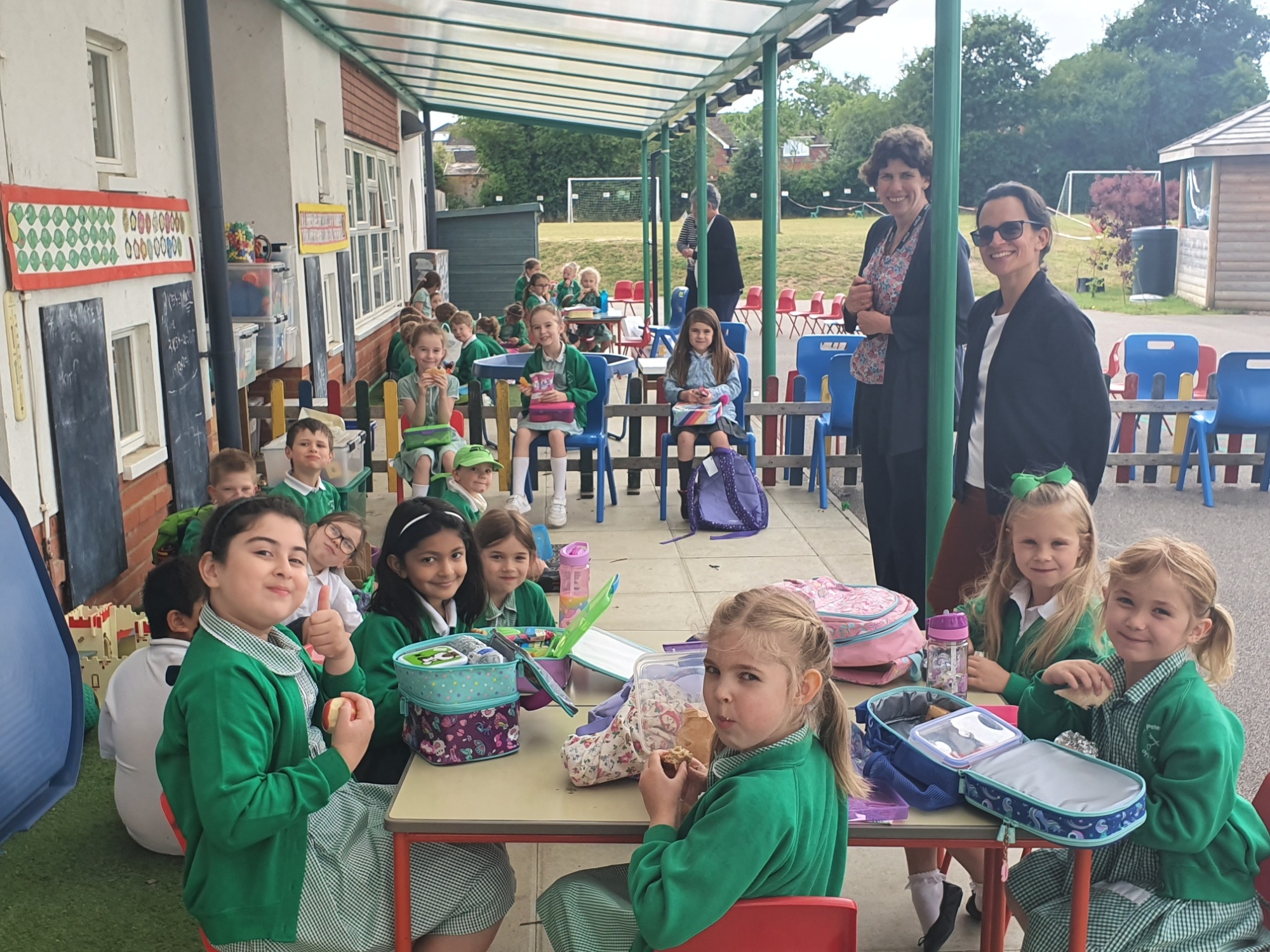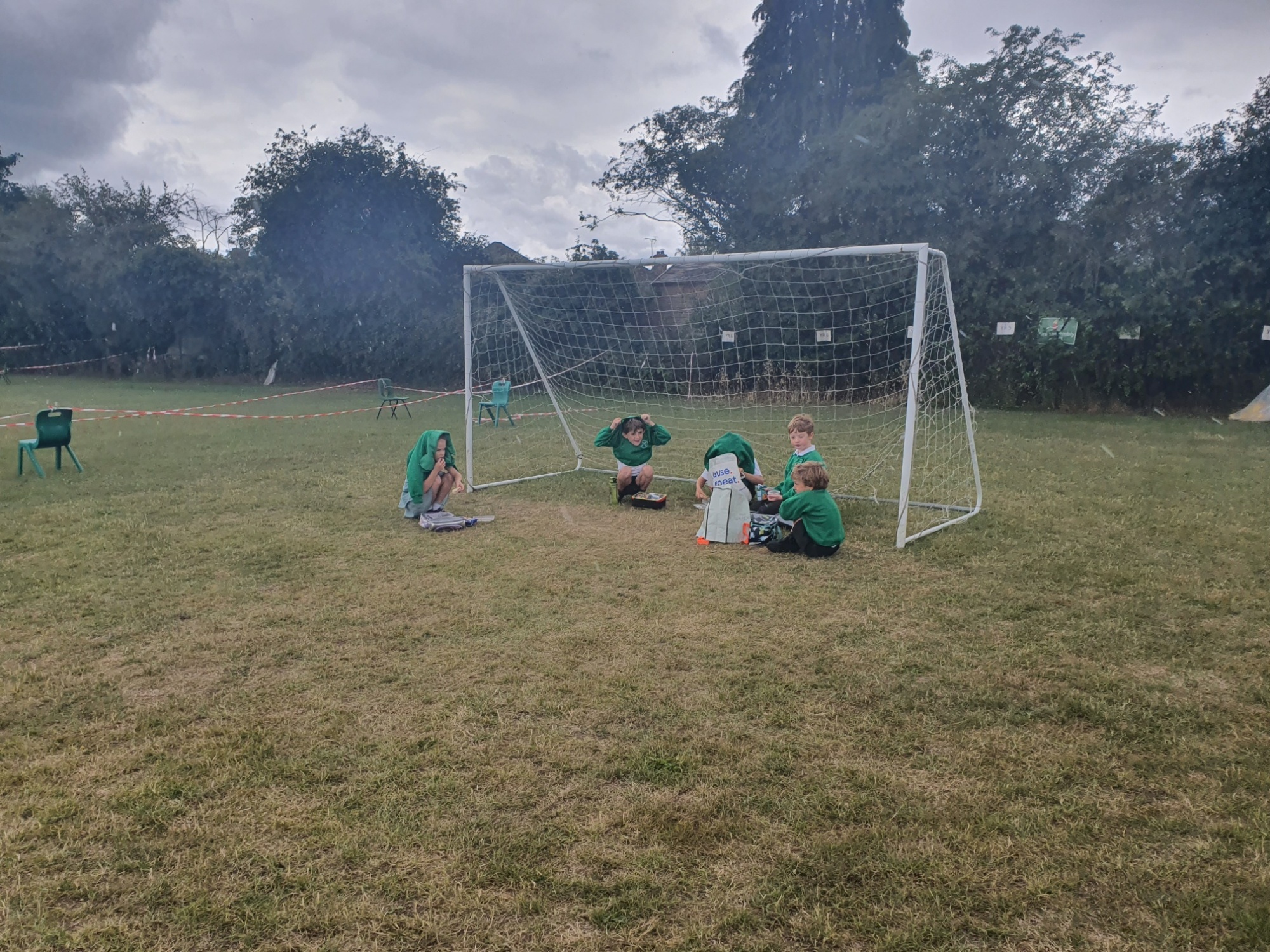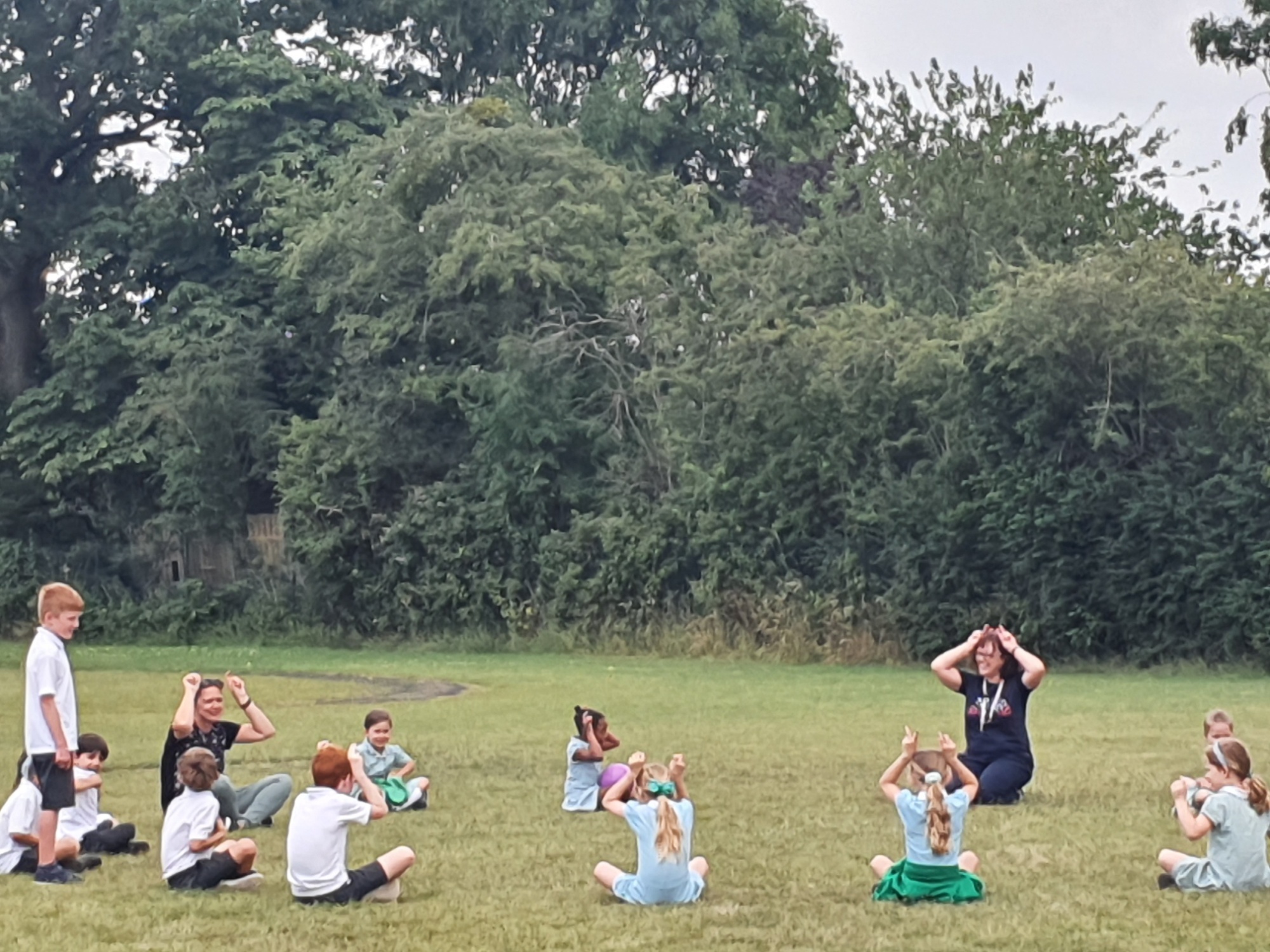 ________________________________________________________________________________________________________________
June 29th : Week 12
Y4 inside our maturing willow tunnel - Mehndi henna style designs- art meets RE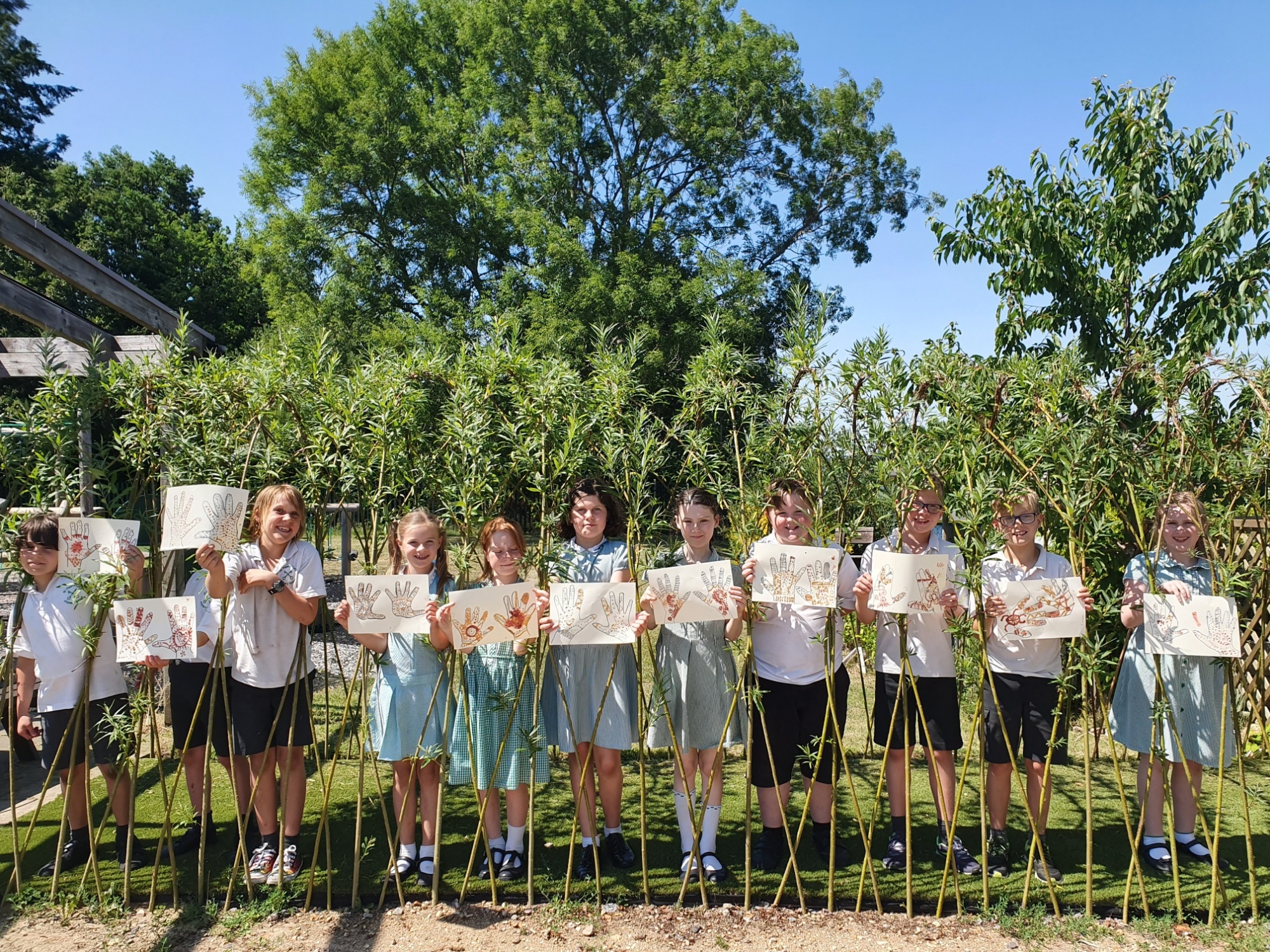 This is Week 12 of Home Learning!. If it seems longer - it is! We didn't post learning for one week of the Easter holidays or during half term. Please go to your year group (LHS) and click on Week 12. We are now full to capacity, but as you know we have made some adjustments so that children from other year groups at least have a short experience in school before September. This week we thought it would be good to include some of our Fairtrade learning. It works well with many areas of our curriculum. It sits comfortably with our messages on diversity and justice. Watch the clip below and then open the challenges which are age targeted: 5-7 year olds and 7-11 year olds. You will find these at the bottom of the tabs on the left.
An assembly : Our theme being: Diversity.
The link to join in the hymn:
https://www.youtube.com/watch?v=kDBJNQiugnM
Thank you so much for sending in your wildlife photos- they're stunning! Mrs Webzell has created a film from them.
________________________________________________________________________________________________________________
June 22nd
This week, we are on WEEK 11. Please go to your year group (see LHS) and click on WEEK 11. We know that many families were very disappointed with the news last week and that it is becoming more of a challenge to keep the momentum with the home learning. Please do try to keep up with the core English and Maths and do what you can from the learning provided for other subject areas. Remember that the children who are in school are following the home learning so that everyone has equal access. Please continue to reach out and ask if you need support. And do continue to post learning on the platform that your child's teacher has chosen (Education City/Purple Mash).
Remember to search for new books to read on the Oxford Reading Tree site: https://www.oxfordowl.co.uk/for-home/find-a-book/library-page/
or the Collins site (which are the books we read in school)
https://collins.co.uk/pages/big-cat-ebooks
Learning through play - Y1 pupils this week
This week's assembly is on The Holy Trinity.
_______________________________________________________________________________________________________________
JUNE 15th
As you can see from the photos below, the children who've come back to school in EYFS have been having a wonderful time, getting close to nature in their new routines. We now have around 80% of eligible children back in school. But we are thinking of those who are not able to be in school and hope that we can find ways to connect more. The children in school will be following the same learning as we are posting on line. Please continue to mail the teachers and encourage your child to engage with the Purple Mash blog or Education City for Early Years. This week we are WEEK 10. Please go to your year group (see LHS) and then click on WEEK 10. As always, you will find Maths and English lessons for the week alongside learning in other curriculum areas. Please note the additional message regarding the Maths Passport learning (mailed this week). Don't forget the Yoga videos from Mrs Perry (see left) and the St Peter's Challenges (left).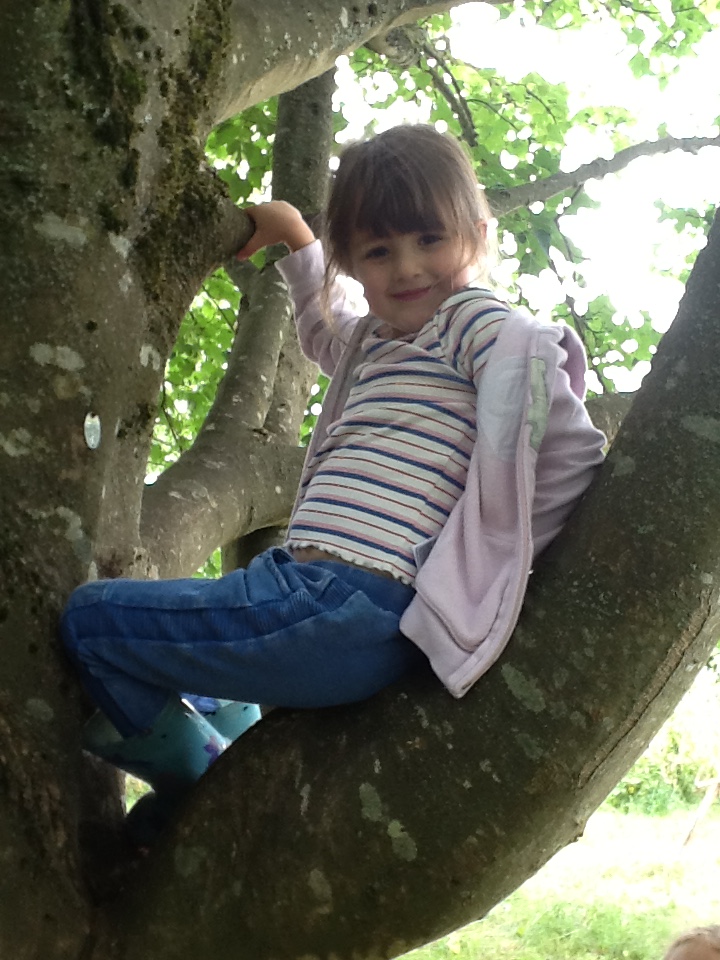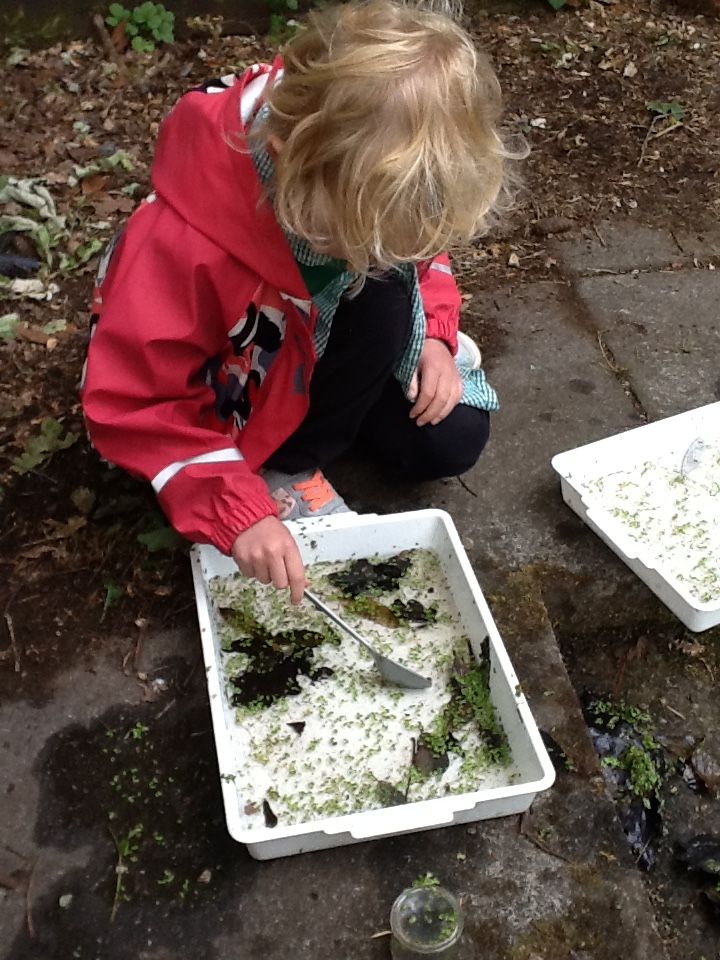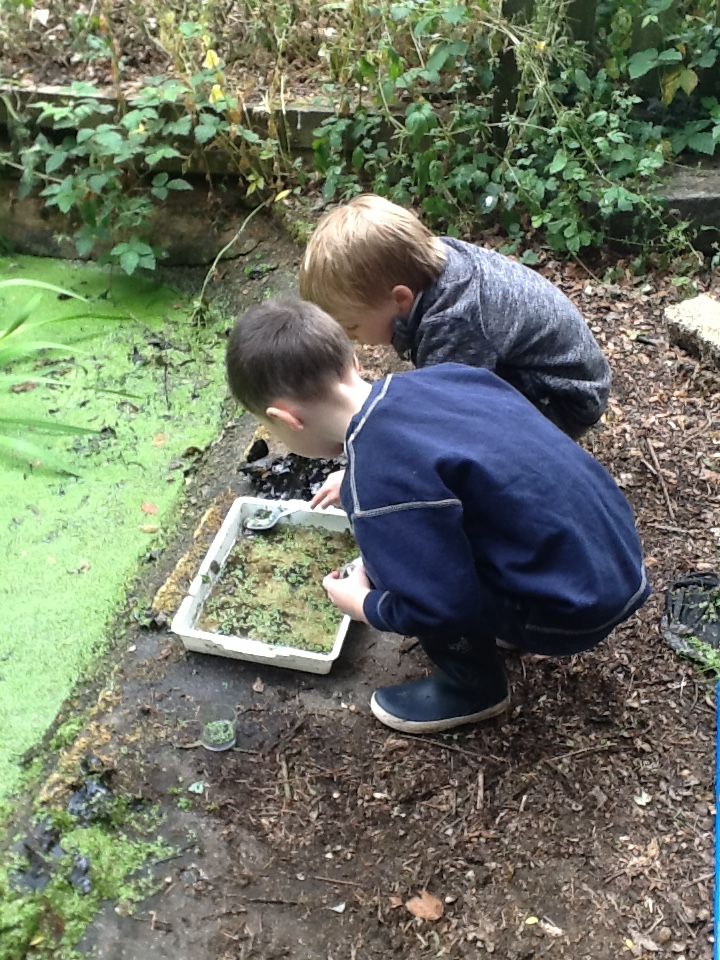 _________________________________________________________________________________________________________
Here is our assembly for this week on the theme of Refugee Week. Please also encourage your child to watch the cartoon video after the assembly as this will help them to process and understand the plight of refugees. Normally we would link our assemblies to one or more of our three school values: Active Citizen, Inclusiveness and Courage. You may want to have a discussion around how the values fit with the message around refugees.
The following short video will help even young children understand the plight of refugees.
__--------------------------------------------------------------------------------------------------------------------------------------------------------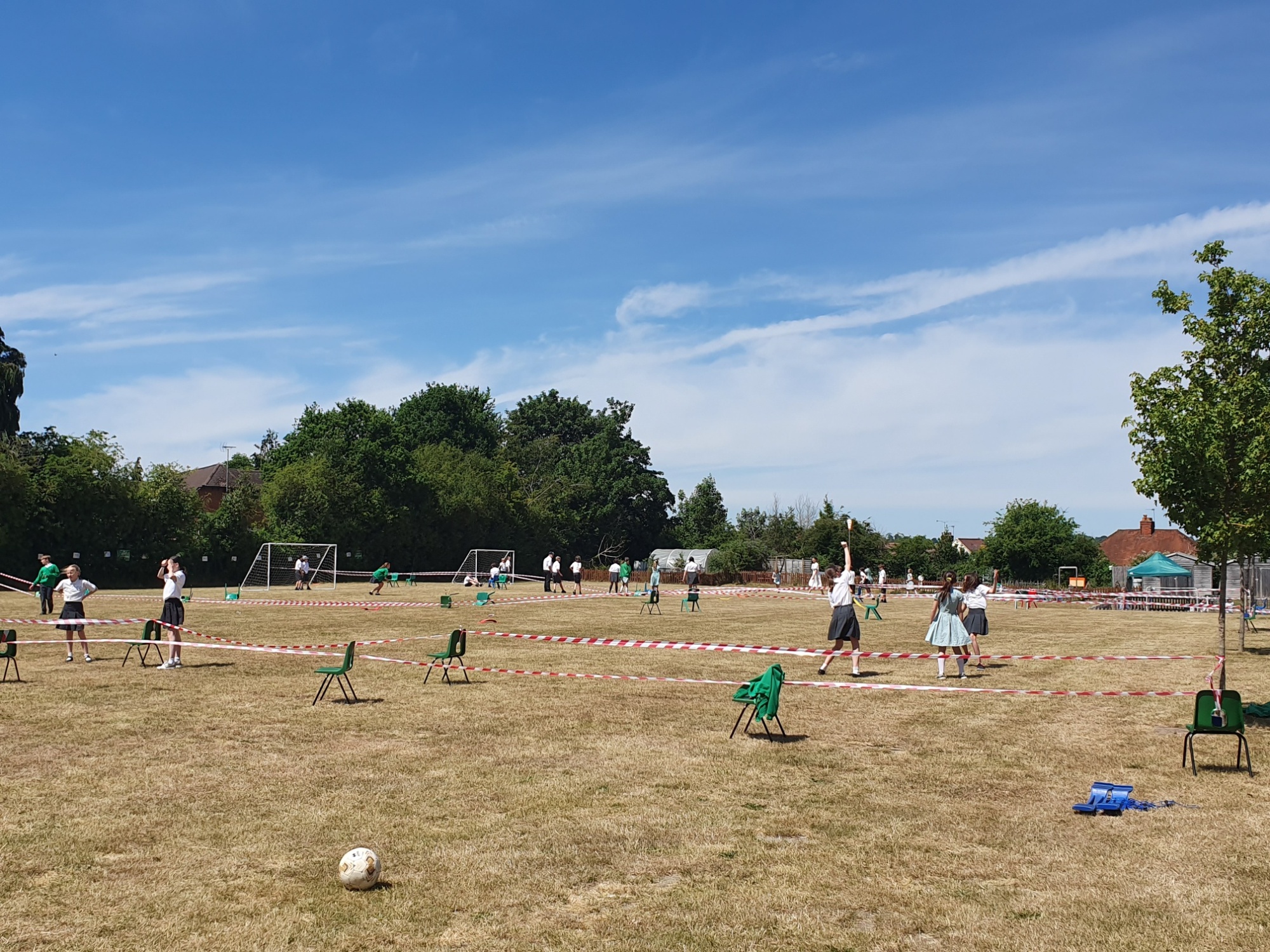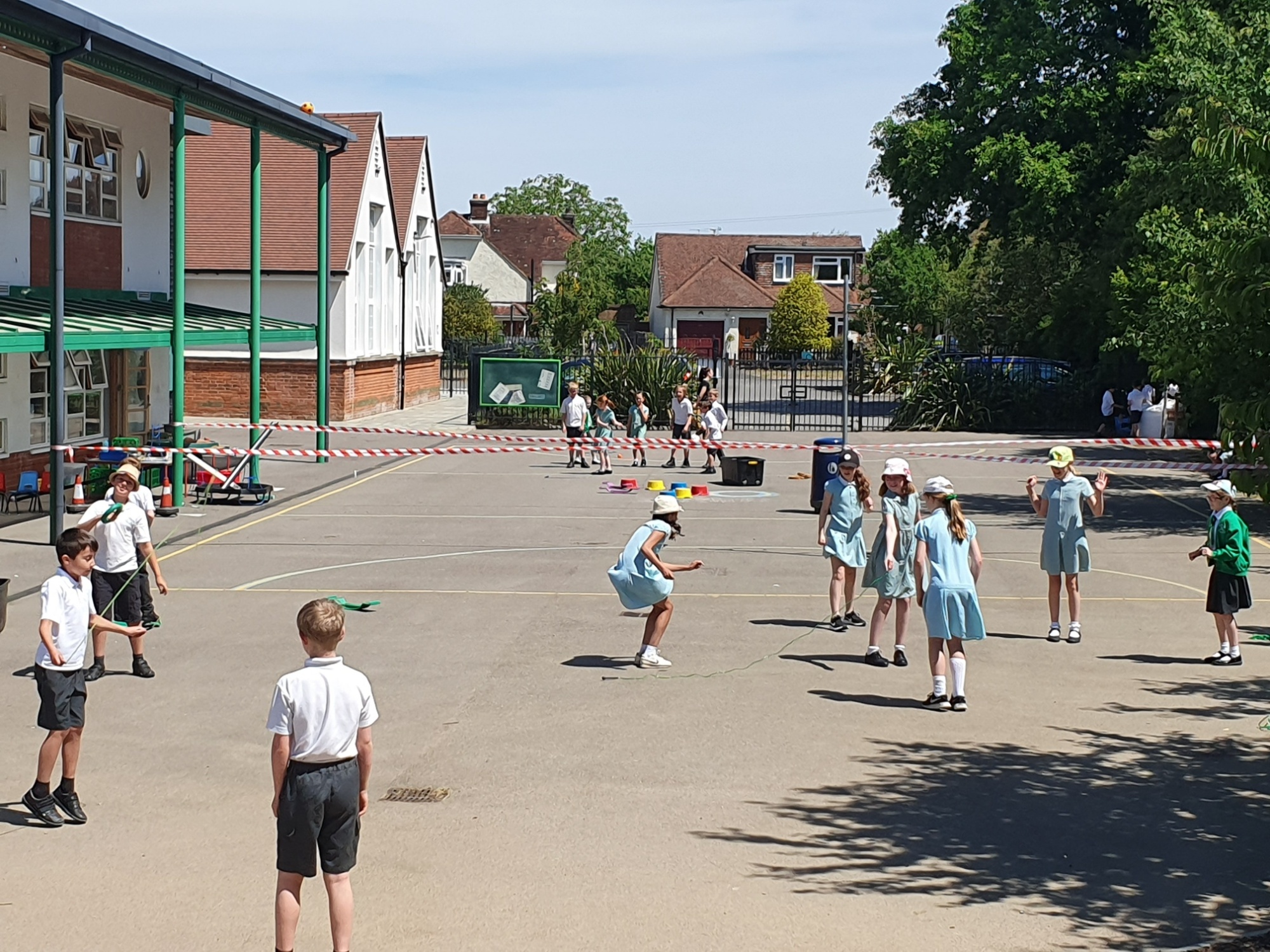 Playtime observing the new rules - you can see that everyone is in zones.
June 8th - As you know, we welcomed back Early Year, Y1 and Y6 this week and now have 120 children in school. Everyone is settling into the new routines and the changes to the school day, but so far things are going well. All staff have been in school full time so as you will appreciate, teachers will not have had a great deal of time to respond to learning. They will definitely be looking at your learning and will try to reply so keep posting!! If you have a problem with the learning please let us know. This week you need to go into your year group (see left) and open WEEK 9. You will find a message from your teachers, your English and Maths for the week and some other curriculum learning.
This week we have included some learning for discussion on Black Lives Matter for Y4 up so that pupils can think about what has been happening in the world.
Y6 & Y1 in their new settings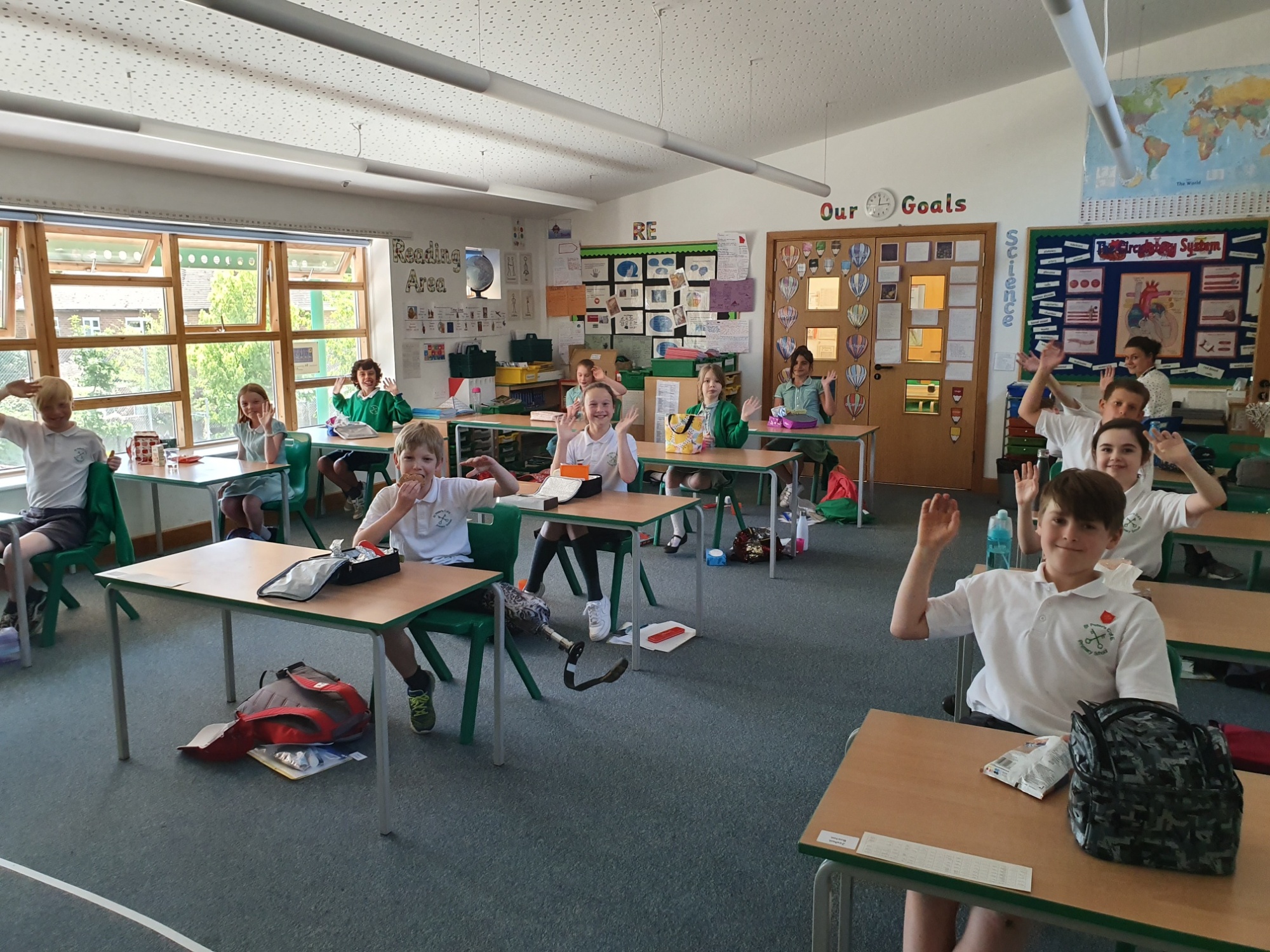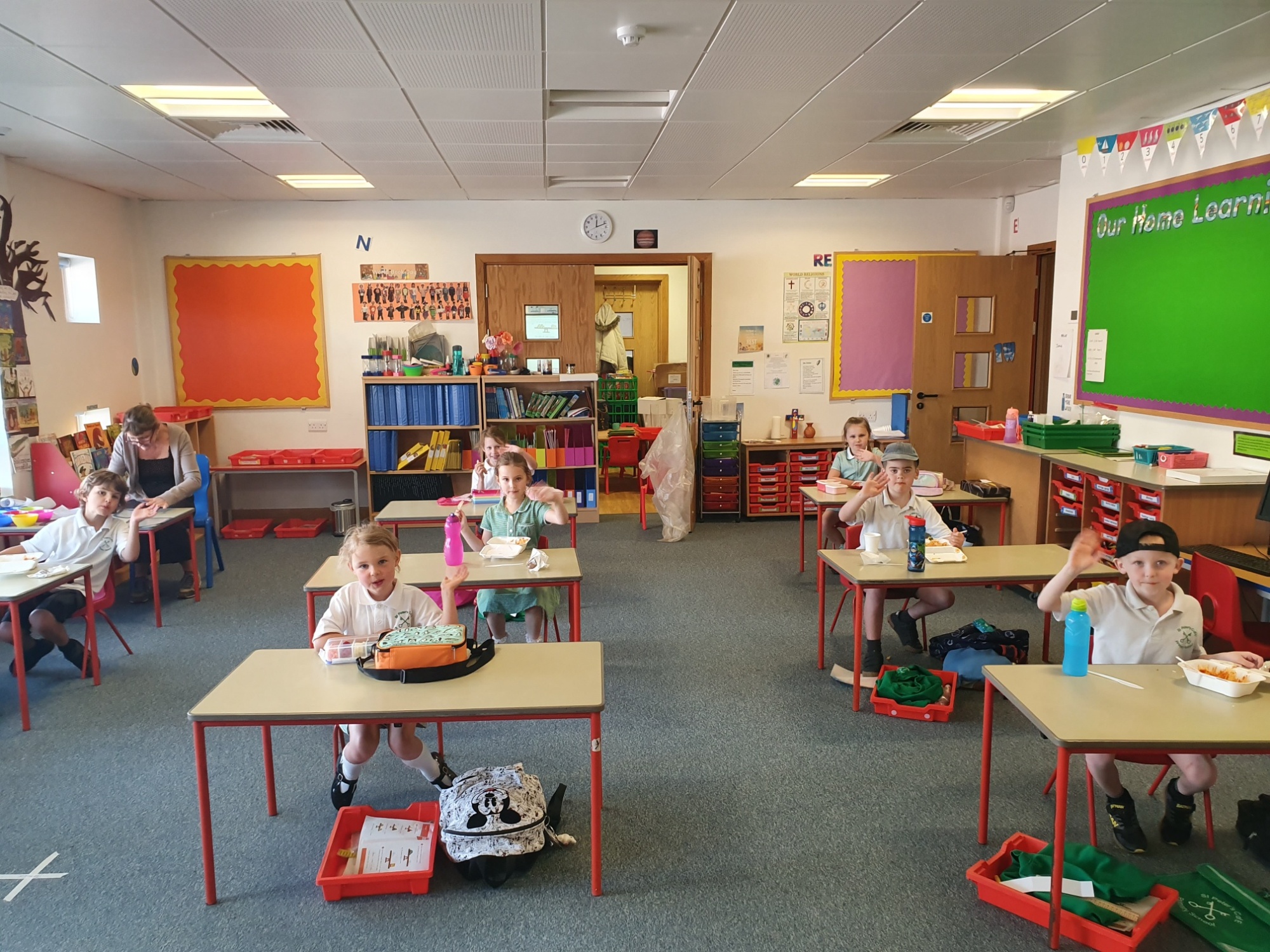 This week's assembly
Did you join Mrs Dunning's assembly last week? Here it is if you missed it. We shall aim to post an assembly every week - why not ask your family to join in?
Cycling challenge for younger children
Our CM sports coaches have added another challenge designed specifically for KS1 children.
https://app.box.com/s/e75u6mmsepkcup9vnmuch5j1cyfgczf0
_______________________________________________________________________________________________
June 1st - We hope everyone enjoyed the sun last week. This week you need to go into your year group (see left) and open WEEK 8. You will find a message from your teachers together with your English, Maths and foundation learning. School is re-opening this week for EYFS/Y1/Y6 and we now have three separate key worker classes. This means that all of the teachers will be in school full time. Please continue to post your learning - your teachers will see your achievements but they will not be able to respond as quickly or regularly as they will be planning and teaching in school every day. If you are stuck or need help, please mail the office or Mrs S Marshall. We have had problems uploading the Hamilton and White Rose PDFs for individual lessons this week. You have the lessons in a zip file. All the daily lessons are there but they will take another step to download. We hope to be back to normal next week.
Have a look at an exciting project organised by The Wildlife Trust. It runs throughout June and encourages you to sign up to 30 days of RANDOM ACTS OF WILDNESS! Sounds like fun in this good weather. Follow the link below: https://action.wildlifetrusts.org/page/57739/petition/1
Congratulations to the children who joined the Frida Kahlo art workshop this week.
Look at Cleo's and Amy's fantastic portraits of the famous Mexican artist!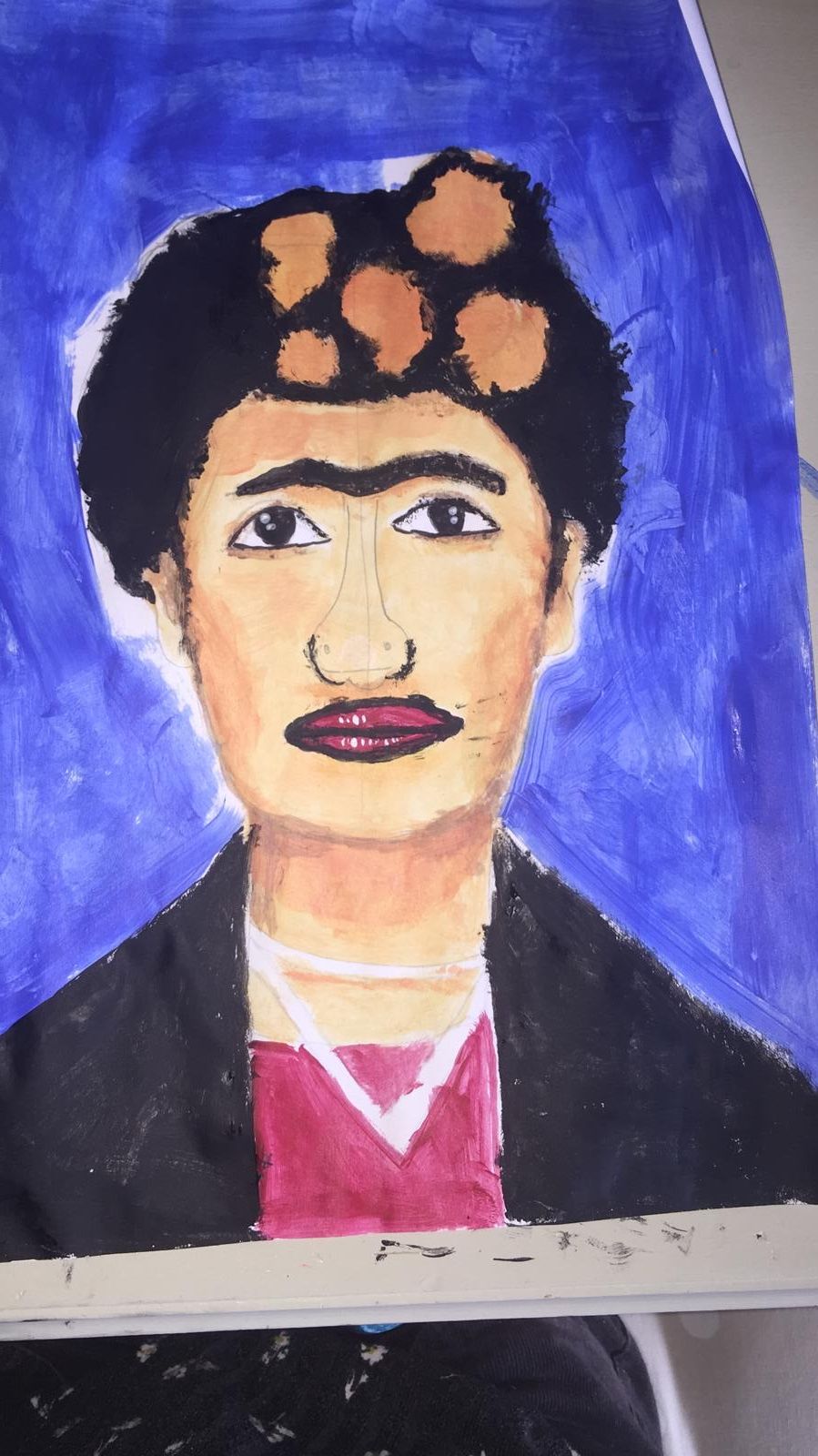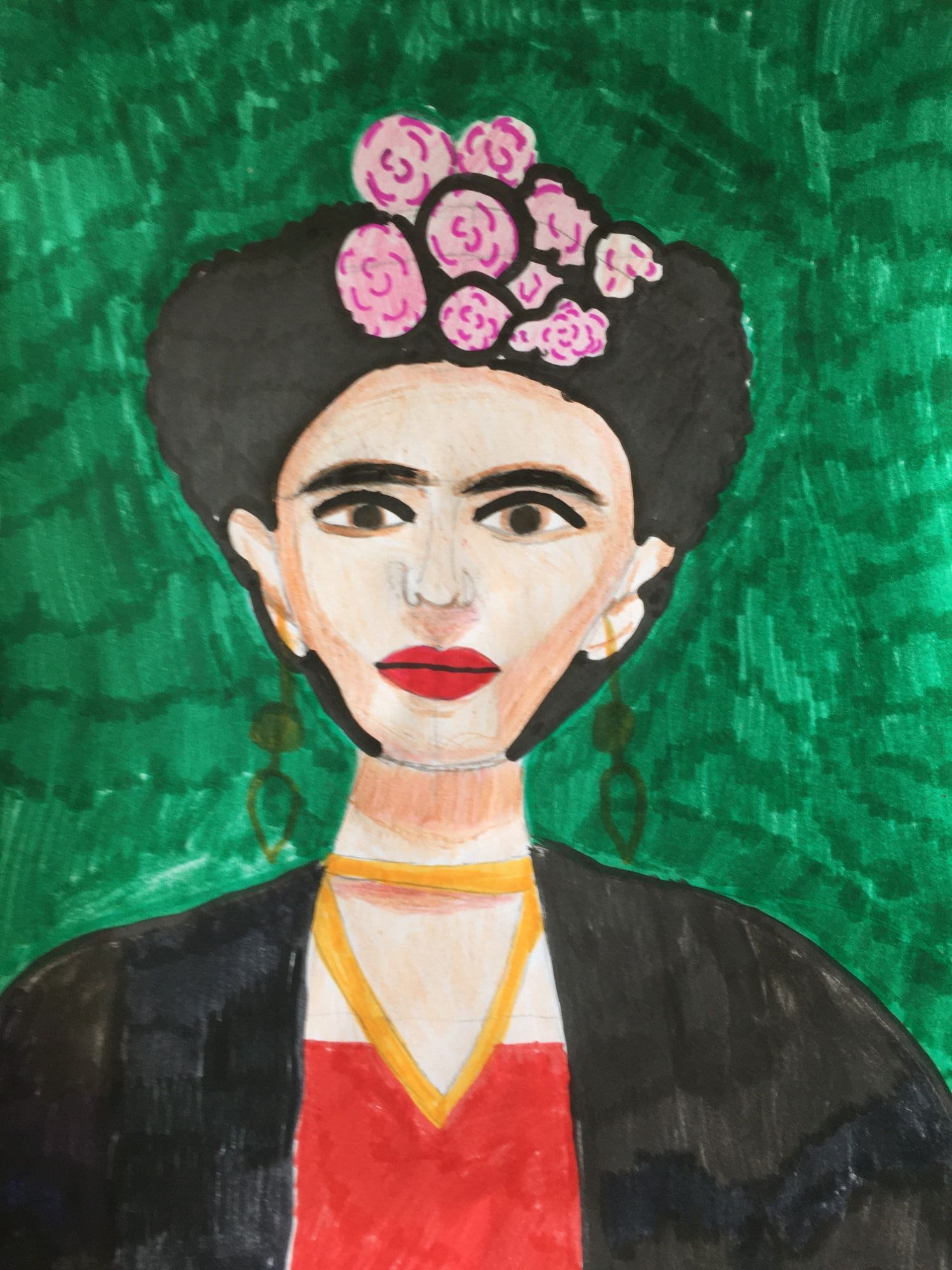 _______________________________________________________________________________________________________________
May 25th - HALF TERM - NO LEARNING THIS WEEK but do take a look at the nature video put together with the wonderful photos you sent in. It is so relaxing to watch. Look out too for a page showing some of your home learning achievements in the Gallery area (next week).
_______________________________________________________________________________________________________________
May 18th LEARNING FOR THE WEEK - please read below and go to your year group and open WEEK SEVEN. Before you do that... take a look below. Mrs Perry has created relaxation videos for us: KS1 & KS2. Show the family how to join in! Below you will also find two short clips from The Hamilton Trust to help you support young children with their learning. We are delighted with all the musical compositions from home - see Gallery. Mrs Webzell is busy putting together a clip with all your wildlife photos - you have until Monday so there's still time!
Remember to read the message from your teachers before starting. Once again, it's been wonderful to hear from so many of you and to see the amazing learning you've been doing. When you've completed your English and Maths and perhaps some project work, please try the St Peter's Challenges (see tab on left). They are split into age appropriate challenges. Also- how many of you have tried the fantastic fitness challenges sent to us by our CM coaches? Some teachers have also posted learning videos. Look at Dylan, writing down words while holding a plank! Can you challenge him?
---------------------------------------------------------------------------------------------------------------------------------------------------------
May 11th LEARNING FOR THE WEEK - please read below and go to your year group & open WEEK SIX
What better way to cheer us into Summer than this painting sent in by Lucy Y3: Sunflowers -after Van Gogh!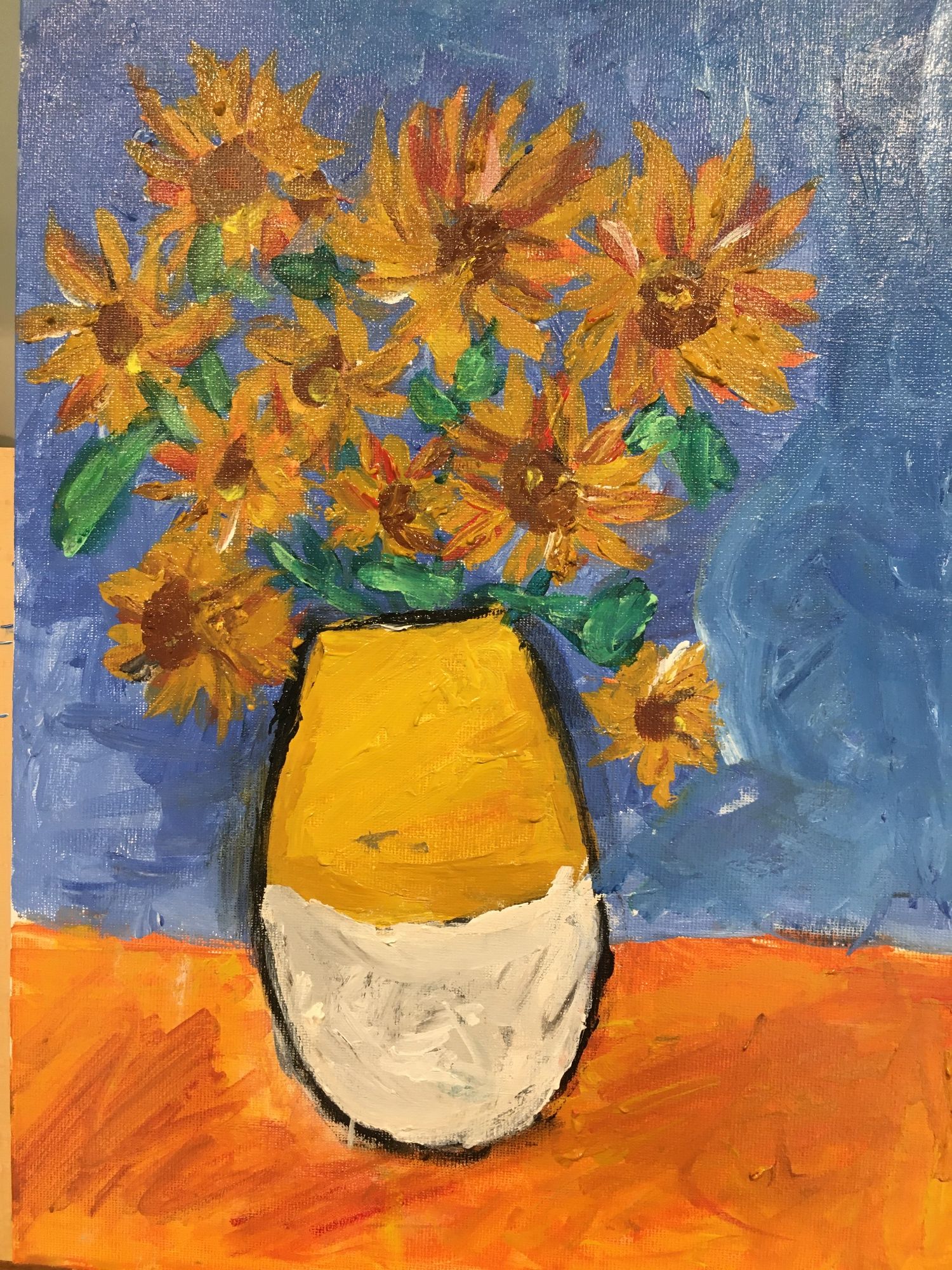 Teachers have loved hearing from you all this week! We've enjoyed seeing some wonderful activities completed from the St Peter's Challenges (see tab on left). Many of you have been baking and preparing meals for the family. Others have risen to the physical challenges or found out about places around the world and the environment. Make sure an adult signs off your challenges and bring your sheet in when you return to school!
Please read the message from your teachers on your Year group page for Week Six before you begin your learning. Remember you have your teacher's email address and can contact them if you need help or if you wish to share something you've achieved.
Remember to check Purple Mash and keep up with your Mathletics and Readiwriter.
Can you send us a photo?
This week you are invited to send in a photo for a St Peter's wildlife video - see instructions on tab to the left.
Open the link below to find some fitness challenges from our friends at CM SPORTS - try the plank and the toilet roll flip for starters!
https://app.box.com/s/nvl2hurwnv7hxdabnrdui6t4sfqool2z
-----------------------------------------------------------------------------------------------------------------------------------------------------
The Song Birds (parents' choir) sing WW1 song
-----------------------------------------------------------------------------------------------------------------------------------------------------------
Find out what the staff are getting up to when they're not busy in school or at their computers! (May 5th)
May 4th LEARNING FOR THE WEEK - please read below and go on to your year group & open WEEK FIVE
We know that you loved seeing the staff on the video that we made last week - they love hearing from you!
Remember that you have your teacher's email address if you have any difficulties or would like to share some of your challenges or learning with your teacher. All of the staff have been delighted to see some of what you have been getting up to. We've received photos of children completing their the challenges and some have received feedback on their learning. Do communicate ... even if it's just to say 'hello'!
This week we have also included some family activities produced by The Church of England which are designed to help us to value what we have and what we can be grateful for in these challenging times. Do take a look as they will provoke discussions in families. There is one for each key stage.
Your year's page explains that although White Rose maths presentations are available on the White Rose links, the activities are now on your page. White Rose has teamed up with the BBC to provide additional challenges in Maths. To access - follow link below.
https://www.bbc.co.uk/bitesize/articles/zhmbrj6
The Purple Mash site is proving to be very engaging and teachers have been communicating with pupils on this platform too. There are new learning opportunities being offered all of the time - we shall add any that we think are particularly useful (see links to the left).
KS2 pupils may enjoy this brilliant production of David Walliams' The Midnight Gang by Chichester Theatre. https://www.cft.org.uk/the-midnight-gang-broadcast
--------------------------------------------------------------------------------------------------------------------------------------------------------
April 27th Learning for Week - please read below and then go to your year group & open Week Four
But before you do that - remember that all the staff are thinking of you and your families and HERE IS OUR MESSAGE TO YOOOU!
We hope that everyone has managed to get back into a routine for learning after the Easter break. Last week you will have received your child's teacher's email address. We have been very excited to receive some photos of children's learning. How creative the children are! Please do upload some learning that your child is proud of -they will certainly receive feedback from their teacher. Please keep up with Mathletics and Readiwrite programs as teachers can monitor a child's progress and are setting new tasks. Almost all children are accessing this - well done! We are also pleased to see that Purple Mash is being used extensively and will be using this more for teacher feedback. Please see the tab to the left which will explain in more detail. Can you get to a park or do you have a garden with a tree? If so, see tab below for a fun activity involving trees!
WHITE ROSE MATHS
This is now being posted for Y1 - Y6. We are no longer posting separate lessons as we felt that some learners were missing the presentations which accompany them. You have the link for your year group and you need to go on to the set of lessons for the appropriate week (see your page). You will find a presentation for each day followed by activity sheets. The answers are also available for you to check.
How are you getting on with the St Peter's Challenges for your year group? Mrs Hill's daughter has apparently done the ironing and made salmon fishcakes for dinner - brilliant life skills! Do send your photos in and we shall put a section on the website gallery for all to share.
You have also received the St Peter's Well Being pack. It is aimed at parents and offers practical advice on how to support your child during this difficult time. You will also find tips for managing as adults during lock down. It's all common sense but sometimes it's good to be reassured that you are not the only one who may be struggling to manage children's learning at the same time as managing your own work commitments. The pack also lists contact details for local and national support.
The Hamilton will still be our core English learning.
For Y1- Y6 both the BBC and The Oak Academy lessons are good. Oak is backed by the Department of Education and the content is sound. The BBC's presentation is very accessible for all children. They don't always follow our specific curriculum but they are put together well and are of course, visual. Anything that children enjoy over and above what is set will be a bonus, even if it's not our specific curriculum. Knowledge is power!
https://www.thenational.academy/
https://www.bbc.co.uk/bitesize/dailylessons
------------------------------------------------------------------------------------------------------------------------------------------------------------
April 17th 2020 (Learning for week starting April 20th 2020)
We hope that everyone had a peaceful and happy Easter. Thank you so much for the photos of your Easter Gardens - they are all absolutely beautiful! Please look at the gallery section of this website to view them. For a different style of learning to supplement the core lessons, please open up ST PETER'S HOME CHALLENGES (see tab to the left). There is something here for everyone. No time frame but designed to last through lock down. There will be prizes for commitment and perseverance!
Two fun websites added in the tabs:
The Royal Opera House has high quality creative activities for 5-11 year olds
Save the Children has a selection of lock-down activities including Bruno Tonioli showing us how to dance and Jamie Oliver showing us how to cook! Take a look - it's fun!
You will find your learning by accessing your year group and going onto: Week Three.
Have you kept up with your Mathletics and spellings? Your teachers are checking this carefully and setting you new tasks each week.
We are continuing with The Hamilton Trust learning for English. Some year groups have changed to White Rose for Maths, others are sticking with Hamilton Trust. We have now added Hamilton learning for EYFS children.
For those following White Rose Maths you can locate the answers by accessing the White Rose website: https://whiterosemaths.com/homelearning/
For the Hamilton Trust learning we have added the PPTs which are essentially for teachers, but our staff feel that because there are audio links, they will also be helpful for parents.
Parents - please take time to watch the following clip by Ruth Merttens the head of Hamilton Trust. She gives a reassuring outline of how to support your child with their learning. Her main point is the need for routine and structure - but she gives some useful hints for organising the learning at home.
https://www.youtube.com/watch?v=54V4kjoMVe4#action=share
---------------------------------------------------------------------------------------------------------------------------------------------------------
April 3rd 2020
Hope everyone is keeping busy and well! Although this is technically the Easter holidays, it will feel very much the same as the last two weeks, so we are adding learning this week. But after today, your new learning will start on April 20th. Please take time to read the online safety information (Other Info).
Did you have a go at the yoga? Are you keeping up with Joe Wicks?
Your teachers are looking at the learning you've done online and will be setting new Mathletics. We shall be attaching some new links to help parents support Readiwriter spellings.
Have you tried Facetiming a friend or relative and reading your book to them?
Have you thought about making a special Easter card for a neighbour or relative?
Next week is what is known as Holy Week - the build up to Easter - find out what happened on each day and why it is important to Christians around the world.
Please see the Readiwriter Parent Pack below.
There is also an Easter Science challenge for all - one is more challenging - go for it!
KS2 - an exciting live lesson link from the Field Studies Council - you need to book on link below- looks fascinating and links well with KS2 curriculum