Curriculum and Wellbeing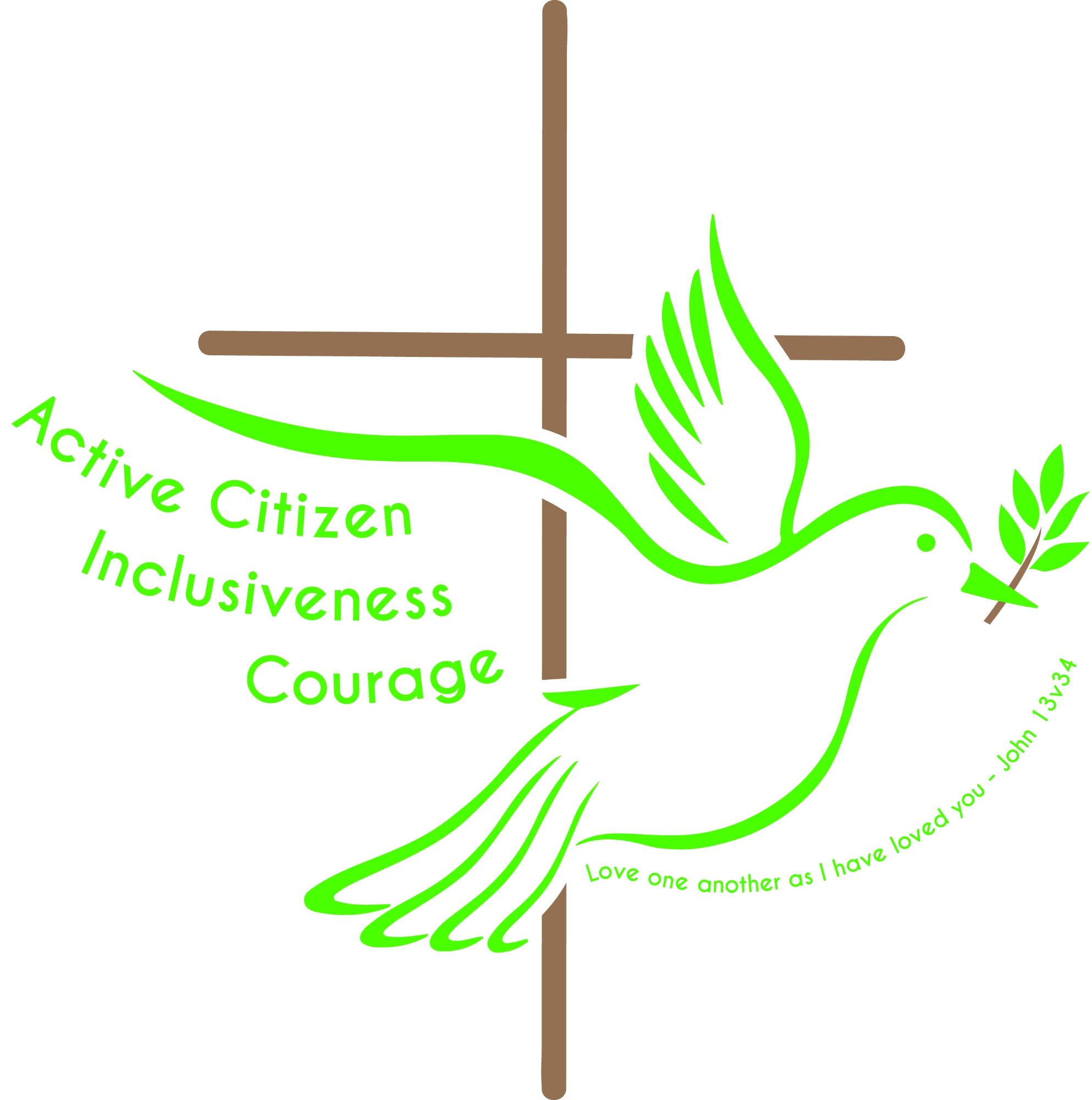 Our Vision
At St Peter's we have high expectations where everyone flourishes, achieves and succeeds within a safe, inclusive Christian community. We promote gospel values of independence, respect and empathy. Through an exciting curriculum, children are inspired to find joy as lifelong learners and active world citizens.
Jesus said: "Love one another as I have loved you." John 13:v34
At St Peter's we offer a broad and inspiring curriculum. We encourage children to take responsibility for their own learning, while enabling them to develop the skills and acquire the knowledge they need to become enquiring independent learners.
The curriculum is underpinned by a strong social, moral, spiritual and cultural emphasis which enables children to learn about themselves and appreciate others as individuals.
We place a strong emphasis on giving our pupils experiences which will encourage them to seize opportunities to develop their learning as they journey through life. Our pupils will be working in a world where people across the globe are increasingly connected and interdependent. Actions taken by governments and communities in one part of the world impact people in other parts of the world. We believe that the primary school experience at St Peter's gives our pupils a good start and inspires them to look outwards - beyond themselves and their own world.

​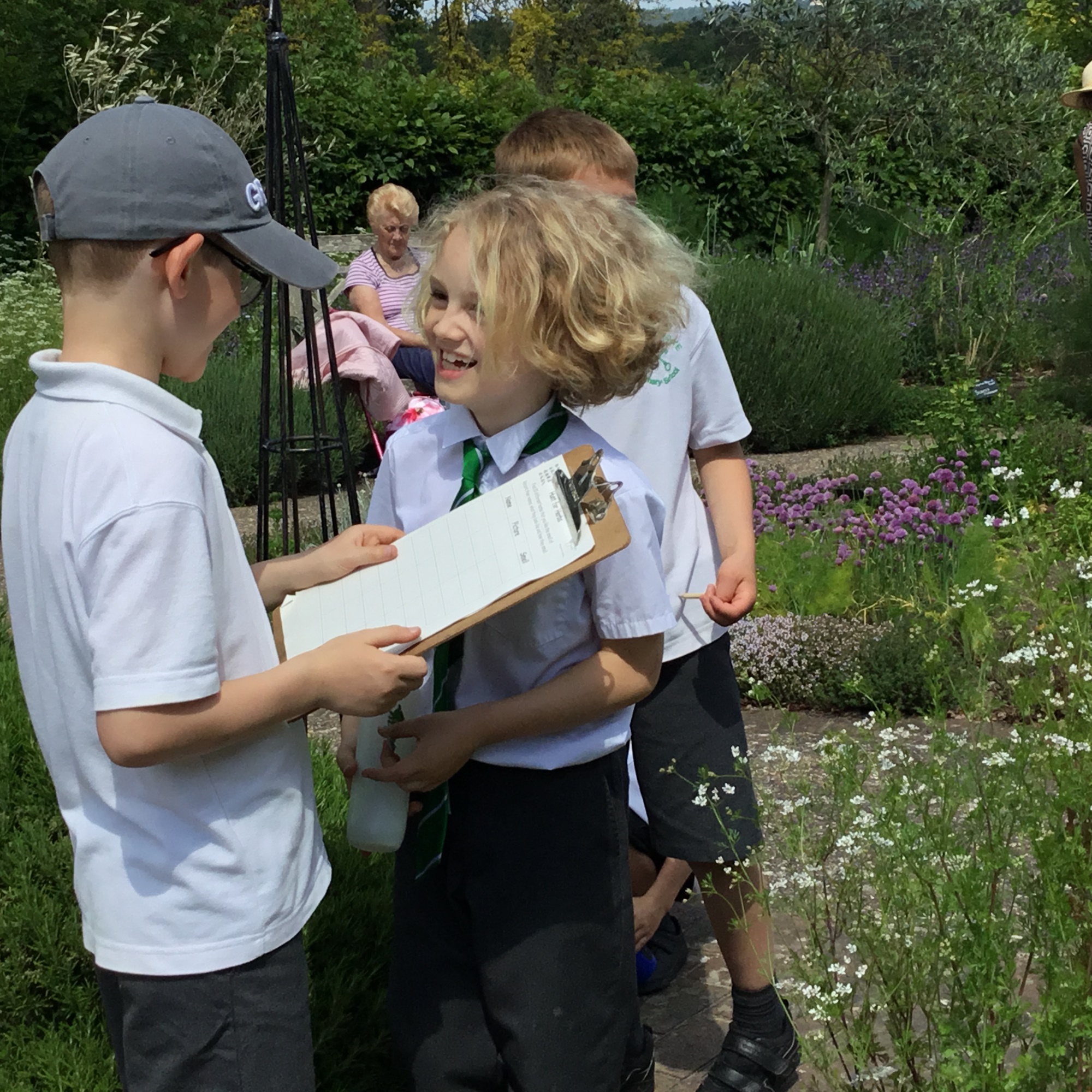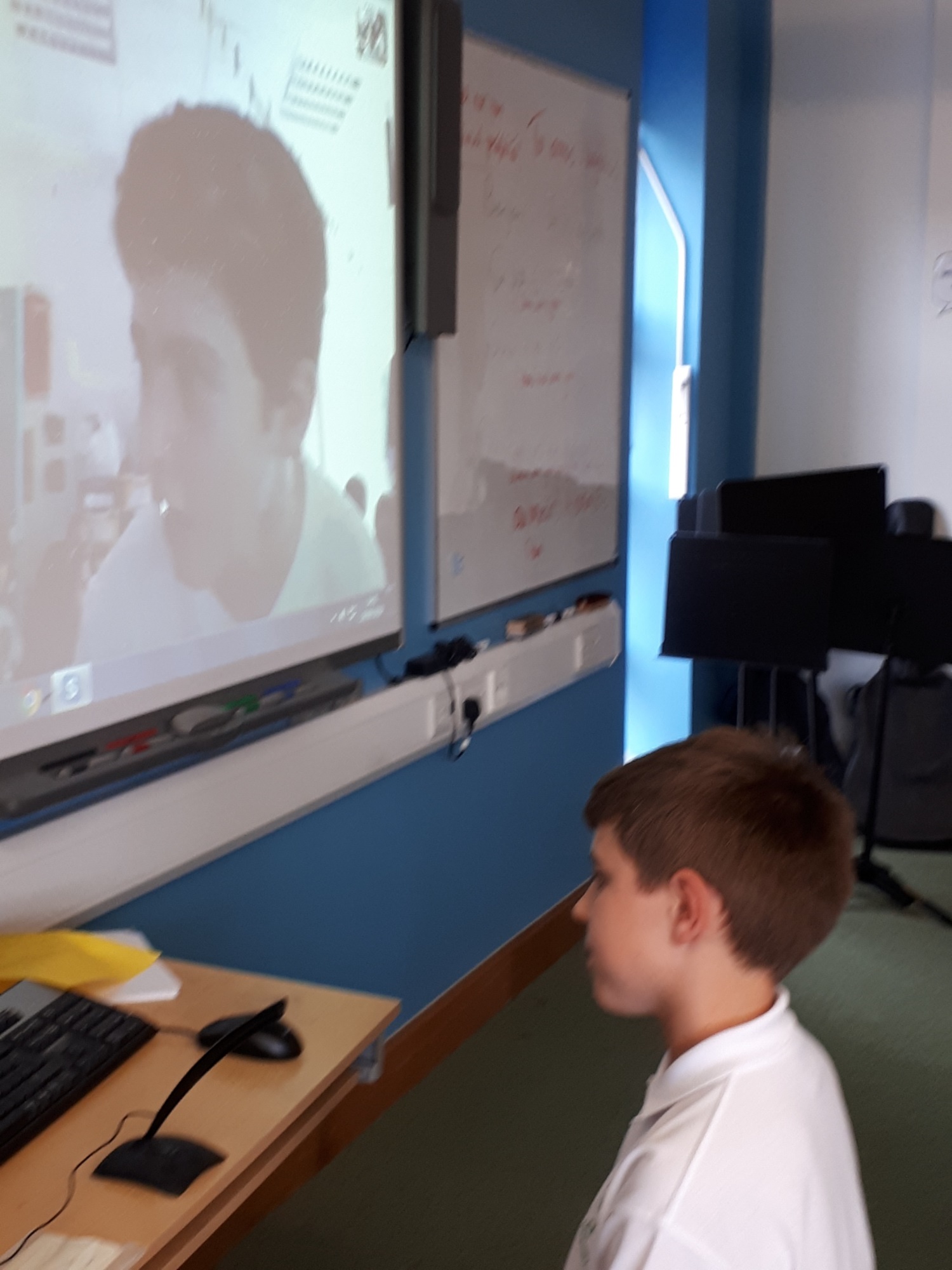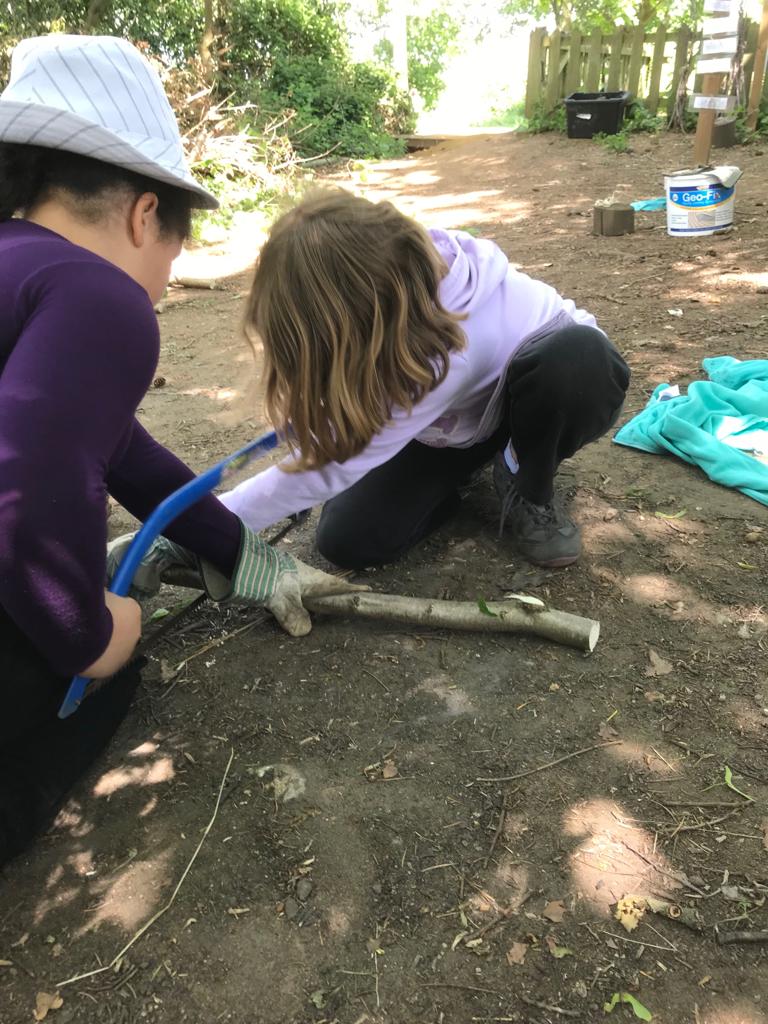 ​​​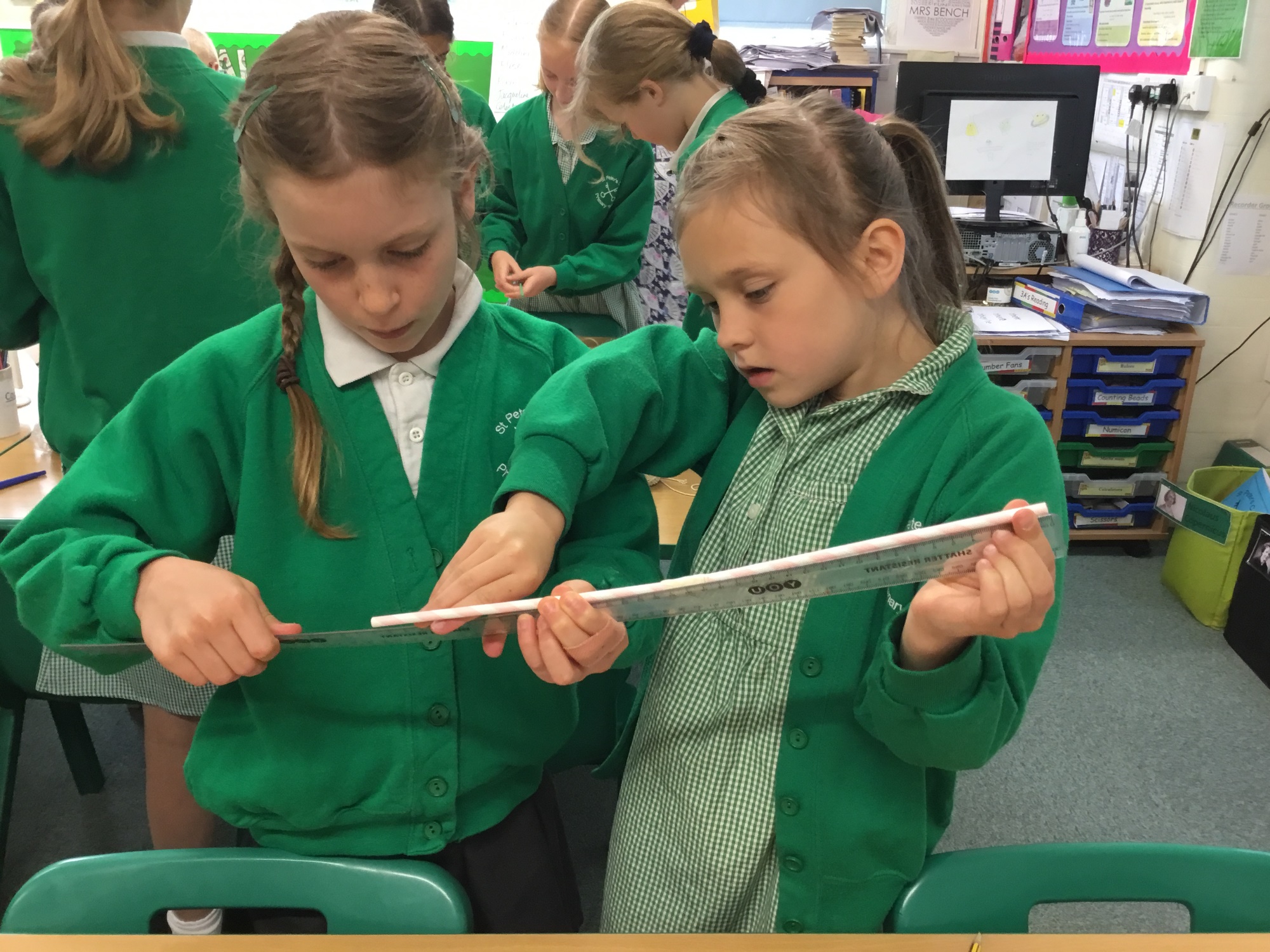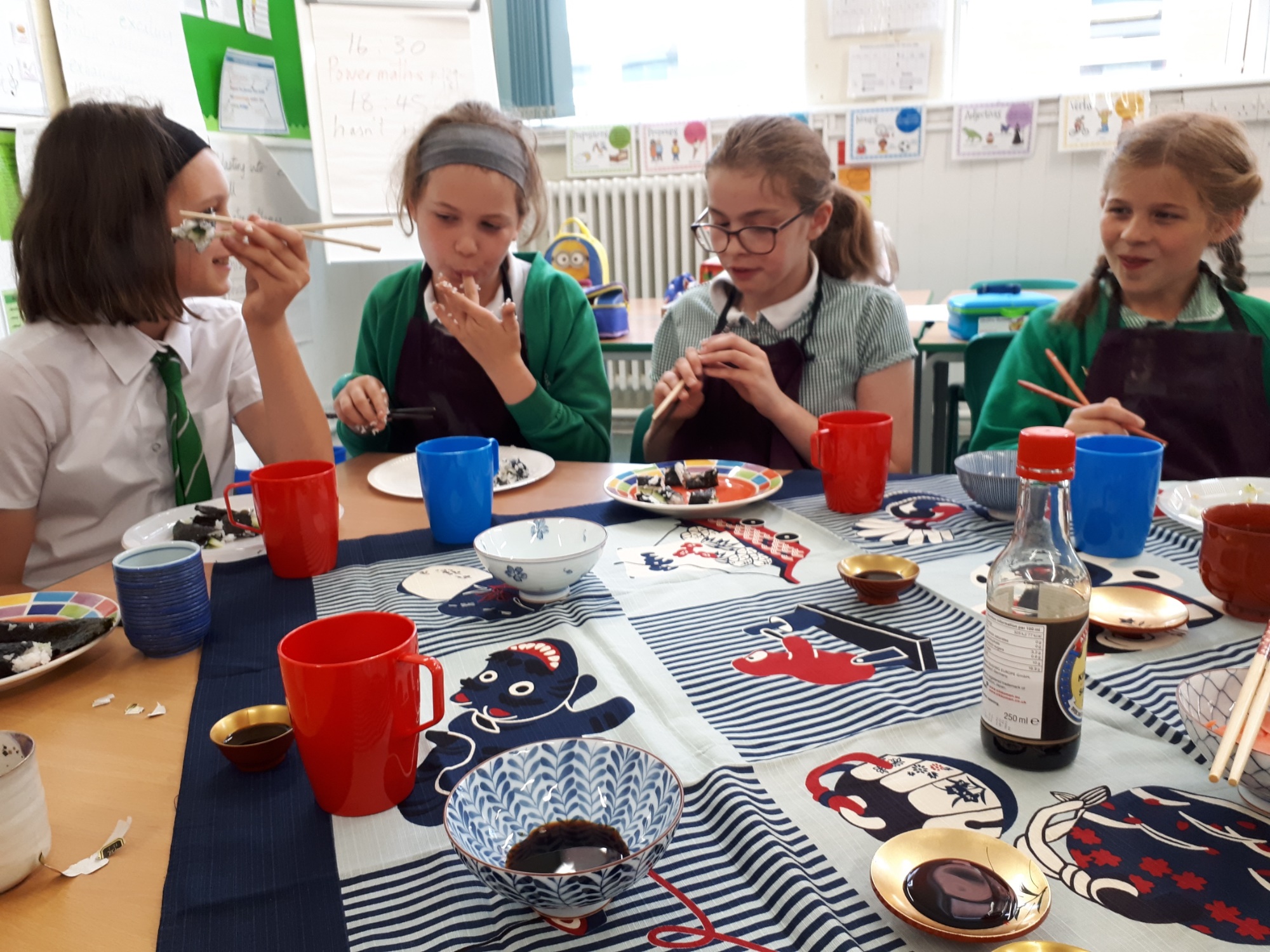 We recognise the importance of building a strong home school link and together with parents; we aim to help children to:
become happy, confident individuals who can empathise with others and treat everyone with respect:
develop a natural curiosity and interest in other people and the world around them;
learn to ask deep questions that search for meaning and context;
acquire a sound command of the National Curriculum subjects so that they become lifelong learners and build on their existing knowledge;
develop spiritually and understand that they have a role to play in God's world;
understand our connections with the local and wider world community; and
develop respect for the diversity of life and the uniqueness of each individual.
We aim to achieve this by:
providing a safe and happy environment where physical and mental talents can be challenged;
establishing strong relationships based on mutual respect between adults and children in the school;
developing staff both as a team and as individuals in order to achieve the highest possible standards in teaching and learning; and
creating an inclusive environment where every individual knows that they are valued.
St Peter's follows the national curriculum with its stipulated hours of teaching. However, we also endeavour to provide an extensive range of additional learning experiences which contribute to pupils' education. All children participate in Forest School Learning which supports the curriculum areas and all children experience Curriculum Cookery which is taught with a focus on curriculum links and skills progression. The curriculum is supported by many school trips which take place locally and further afield. Wherever appropriate, external visitors are invited in to support the learning in specialist areas.
We aim to enhance our teaching and learning by making sure that staff are up date with recent developments in education. We also participate in learning experiences with other schools to ensure that our practice is current and challenged.
The National Curriculum provides a necessary framework for basic skills and knowledge and ensures continuity in a child's education. At St Peter's the school's development plan will pick out areas to be developed within a specific time frame. In such a way, the quality of learning is constantly being challenged and improved. We have link subject governors who are trained to question and challenge subject leaders and ensure that high standards are maintained.
At St Peter's we have high expectations of our children and teachers assess daily, using their observations to inform their lesson planning. This ensures that teaching is child-focused. We know that children learn best by experience and that success leads to enhanced learning. We aim to differentiate learning to suit individual children's needs. Children are formally assessed each half term and pupil progress meetings are held with the head teacher and deputy head teacher to ensure that provision is made to keep children on track.
We adopt whole class learning but within the class, the learning will be tailored to suit individuals' needs, talents and abilities. A fluid approach allows children to work at whatever level is appropriate for them in a particular subject or topic.
Subjects
English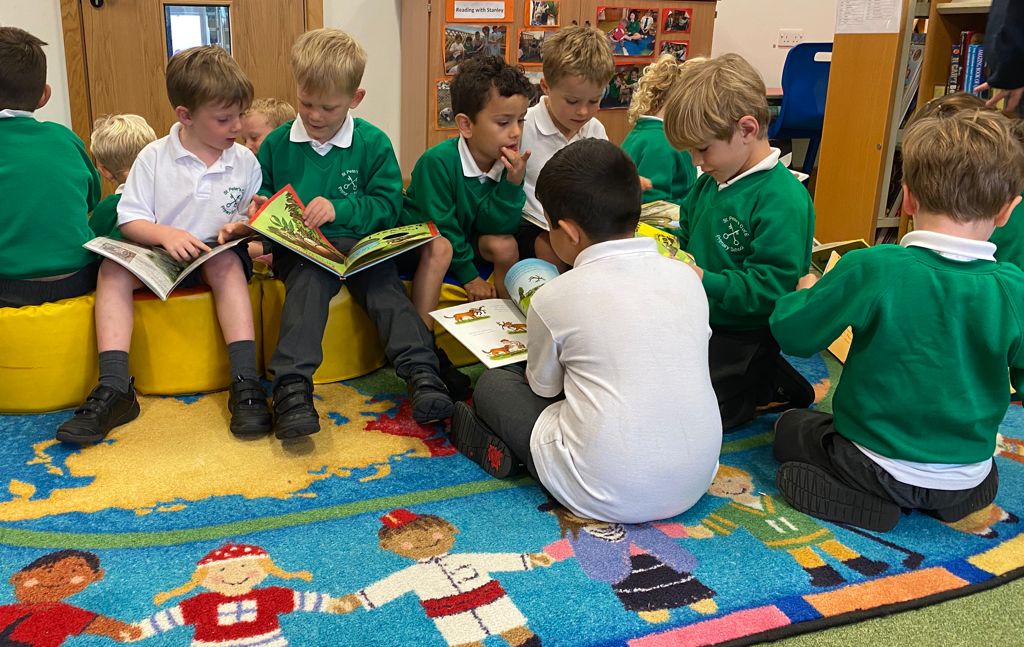 We follow The National Curriculum for English and aim to develop a love of reading and writing from an early age. Children are taught to read through focused phonics sessions and then progress through the school's reading scheme. The Oral Curriculum is always being enhanced and children are encouraged to talk and discuss in pairs and groups, planning their writing before committing to paper. The school values drama and improvisation during English lessons and children are given many opportunities to speak in front of an audience. Rich texts are used for whole class study and wherever possible, links are made with other curriculum subjects and whole school themes such as world literature and justice. Teaching is whole class with support and small group boosters where necessary. Grammar and Spelling are taught both discreetly and woven into whole class teaching.
Reading for Pleasure
'Reading for pleasure' is at the heart of our reading ethos. Reading is prioritised to allow pupils to access the full curriculum. At St Peter's, staff share quality literature with pupils, every day, through reading aloud and sharing books for enjoyment and information. As well as narrative texts, a varied range of non-fiction and poetry is used to engage and motivate children. The school has a well-resourced and attractive library, which the older children help to run. Author workshops are regularly organised and linked to our curriculum.
How do we teach phonics?
The school has developed its own phonics programme which embeds grapheme/phoneme knowledge using consistent visuals, actions and rhymes across every class. Rehearsing the application of known grapheme phoneme correspondence is at the core of our teaching and learning, ensuring that all children make progress in every session.
The programme consists of six phases which are taught through daily phonic sessions in EYFS and KS1, enabling all children to progress, with the aim of them becoming fluent readers by the age of seven. Rigorous assessment ensures that pupils falling behind are identified and supported through effective catch up.
Regular communications with parents give detailed information on the phoneme/grapheme correspondences that have been introduced in class, with guidance on how they can support at home.
Through our robust phonics and early reading programme, we ensure that pupils develop the skills and knowledge to develop as confident and motivated readers. We also recognise the importance of rhymes, games, songs and quality picture books in pupils' language development.
The emphasis in our nursery and early years settings is to immerse children in an environment of rich and engaging verbal language experiences which enhance the development of vocabulary and allow children to become confident communicators.
Reading Books
In Reception and Year 1 we use Collins Big Cat decodable reading books which are matched to familiar phonic graphemes. Pupils are taught in guided sessions. They read each book three times with an adult, allowing them to focus on decoding, fluency and comprehension.
Staff work in close liaison with families to encourage and motivate home reading and provide parents with the information and resources to help their child enjoy reading and make progress. All children take a fully decodable reading book home from when they start school. A reading rewards system helps pupils feel motivated to read regularly.
In Key Stage 2, class guided reading sessions continue and include opportunities for verbal discussion as well as developing written comprehension skills. A variety of texts are used, including sets linked to curriculum topics. Pupils progress through targeted teaching of fluency, expression and understanding. Pupils in Key Stage 2 take home a reading book matched to their ability.
Alongside home readers, all children visit the school library on a weekly basis and take home a book of their choice.
Mathematics
We follow The National Curriculum and teach Mathematics daily focusing on 'mastery' where children learn together and become confident in one concept before moving on to something new. We aim to embed basic number facts and a solid understanding of place value in KS1 so that by KS2 children are able to apply their knowledge to problems and work fluently with mathematical concepts. Wherever possible, Mathematics learning is applied to everyday life situations. Children are encouraged to challenge themselves and to find different ways to solve problems. Teaching is whole class with support and small group boosters provided where necessary. We expect parents to support the learning of times tables, challenges in the Maths Passport and homework through Mathletics (an online programme).
Religious Education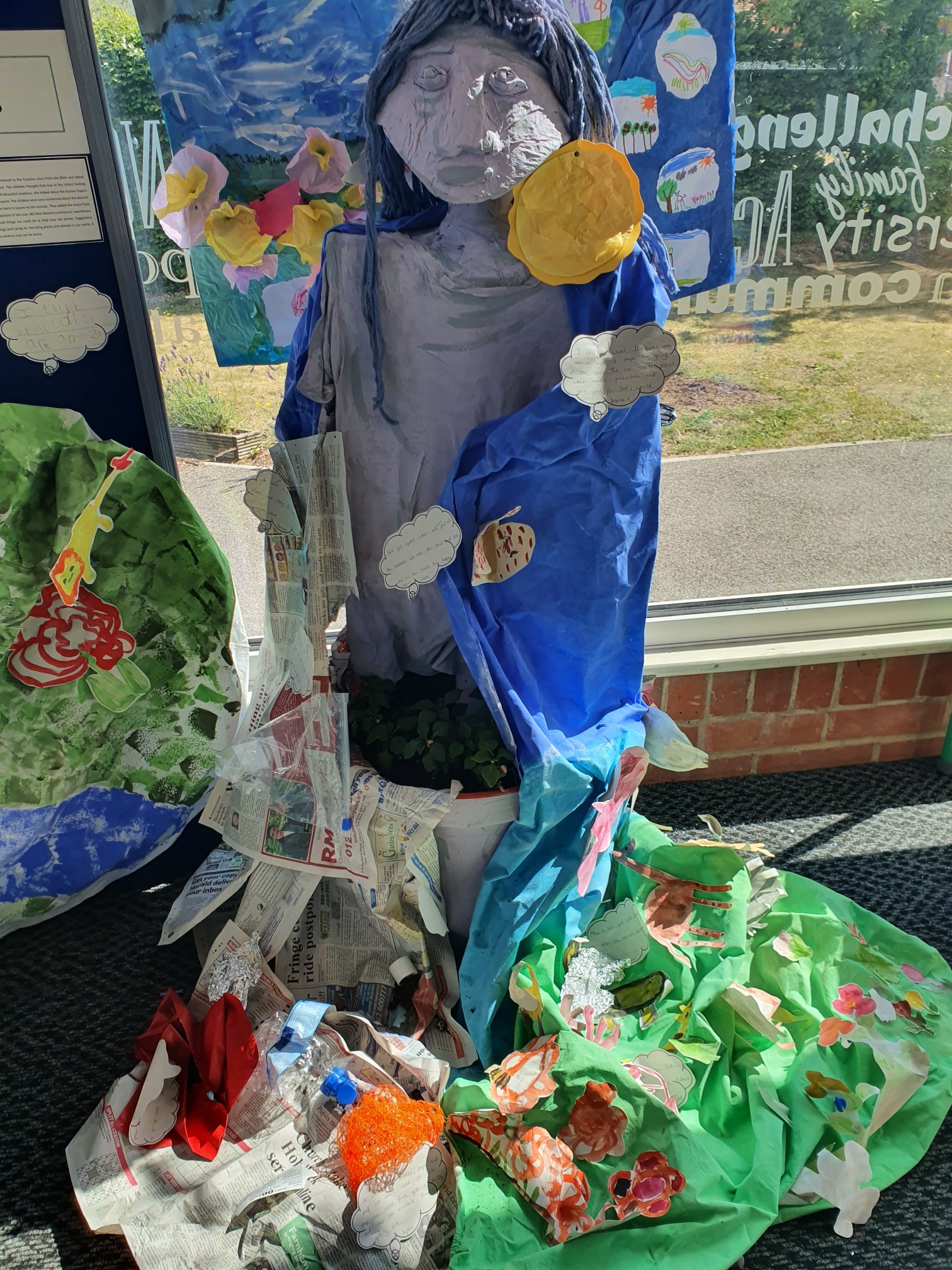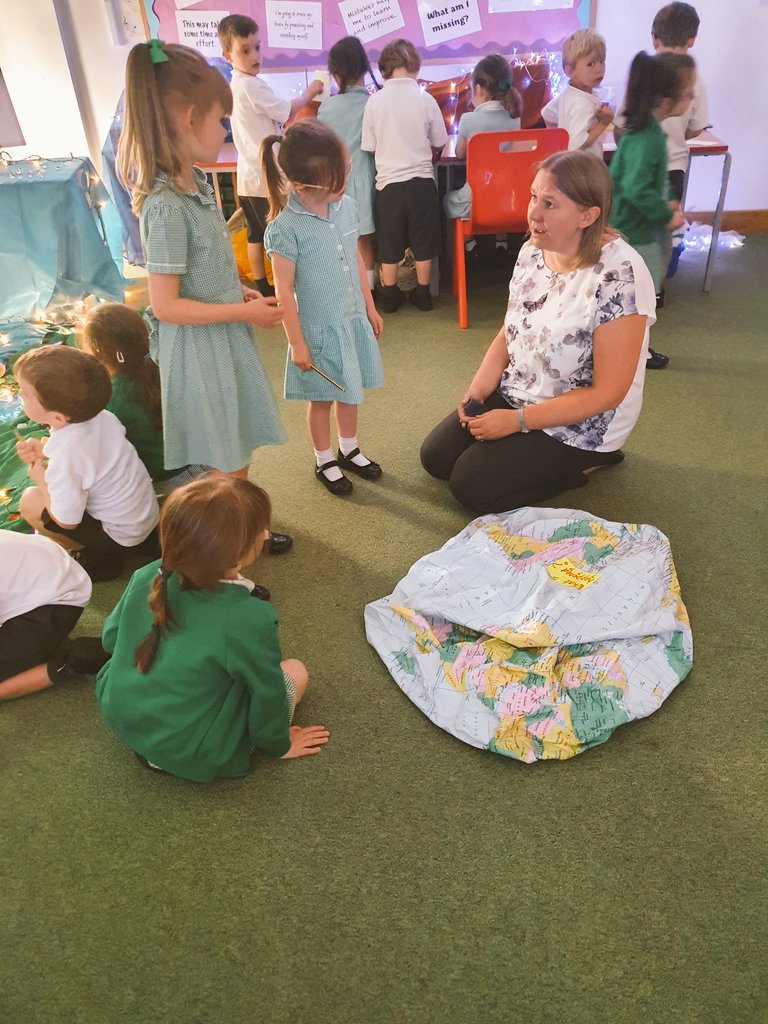 RE is taught as rigorous, academic subject. RE lessons are where children learn to ask the 'big questions' and understand that adults don't always have the answers. We believe that a child should leave St Peter's knowing the origins, teachings and principles of Christianity. As they mature and form their own opinions, they will have the knowledge and understanding to make informed decisions. RE is not taught with the assumption that everyone is coming from a Christian starting point - children are encouraged to ask questions and challenge. It is through these discussions that they develop their own views and understanding.

As a Diocesan School, St Peter's follows the Guildford Diocesan RE Guidelines together with the national resource Understanding Christianity. Christian values are at the heart of everything we teach at St Peter's and in their weekly RE lessons, pupils will explore the deeper meanings and relevance of scripture, both for the people at the time and for today's world. Pupils enjoy the opportunity to ask questions and explore the development and teachings of the Christian faith. They learn that Christianity (as is the case with all religions) has a broad spectrum and that cultural practice and location (both at home and globally) influences the way that people interpret The Bible and Christian narrative. Pupils today grow up in a multi-faith society and many will have little or no experience of religion in their homes. As such, we believe that it is important to teach children to understand other religions; their basic beliefs, their rituals and celebrations. We encourage discussion and support children to explore the similarities and differences across religions. Global issues such as sustainability, justice and fair trade also feature in the RE curriculum.
The RE curriculum has links across other subject areas and is also supported by whole school Pause Days, the Farnham Christian Signposts Team and regular visitors from other faiths.
Major Religions and World Views
From Y1 up, the second half of the summer term is spent studying another major religion. Over their time at St Peter's, all children will have covered at least one unit on each of: Islam, Judaism, Sikhism, Hinduism and Buddhism. We are well resourced with artefacts from other faiths and welcome visitors who can answer questions and put the learning into context. Parents are welcome to see the programme of study if they have questions.
Learning for Life & Sex Education
Personal, Social, Health and Economic (PSHE) education is a school subject through which pupils develop the knowledge, skills and attributes they need to manage their lives, now and in the future. It helps children and young people to stay healthy and safe, while preparing them to thrive in their personal and work life. When taught well, PSHE education also helps pupils to achieve their academic potential. Since September 2020 all schools have a statutory duty to deliver Relationships and Health Education at key stages 1 and 2 as part of their broader PSHE curriculum, in line with the Equalities Act 2010. At St Peter's we refer to these sessions as Learning for Life.
Learning for Life plays an integral role in our curriculum and is reflected in our vision. The teaching is linked to our Christian foundation and the promotion of an ethos which respects everyone as an individual. Pupils follow a spiralling curriculum where key themes are revisited and built upon at an age-appropriate level throughout the primary phase. Regular and ongoing assessment, including listening to pupil voice, allows the curriculum to be tailored to pupils' needs. Our long term and medium-term overviews are available for parents by clicking on the Learning for Life tab on the left.
Science
In KS1 Science is taught through topic work so that children learn to make connections with the world around them. In KS2 Science is taught more formally, encouraging children to ask questions, recognise trends, come up with predictions and draw conclusions. Children are encouraged to ask 'why' and look for patterns and trends in their findings. Analytical skills are developed as they move up through the school. Wherever possible, Science is of a practical nature and maximum use is made of the outdoor learning area.
Computing
All teaching and learning is supported by ICT where appropriate. iPads and Notebooks are available to enhance learning in specific subject areas and to develop computing skills. Internet access is readily available and children are made aware of the potential dangers of using the Internet irresponsibly. Children learn to become proficient in the use of up-to-date technology as soon as they join the school in Early Years.
Foundation Subjects

Throughout the curriculum the emphasis is on developing knowledge and skills within a creative context, so that children can explore and open their minds to what the world has to offer.
History
History is taught as guided by the National Curriculum. In KS1 children's learning is topic focused while in KS2, it is taught as a separate subject but with many links to the English curriculum. Through History, children learn about famous characters of the past and how settlements and cultures developed but also how cultures and dynasties around the world shaped the world that we know today. History provides an excellent forum for questioning and discussion. Many of the topics are supported with school trips or external visitors. (see curriculum map for specific topics).
Geography
Geography is taught as guided by the National Curriculum. Learning includes studies of the weather, the local area and the physical geography of the United Kingdom. The learning also includes European studies South America and a unit on Ghana. In almost all units of work, there are strong links with the English curriculum enabling children to write purposefully with their geographical knowledge. Children also leave St Peter's being able to read maps and use a compass. Some of our Geography learning has fed directly into our International Award accreditation and our Fair Trade Award.
PE
Farnham and District Schools Cross Country - St Peter's girls' winning team October 2021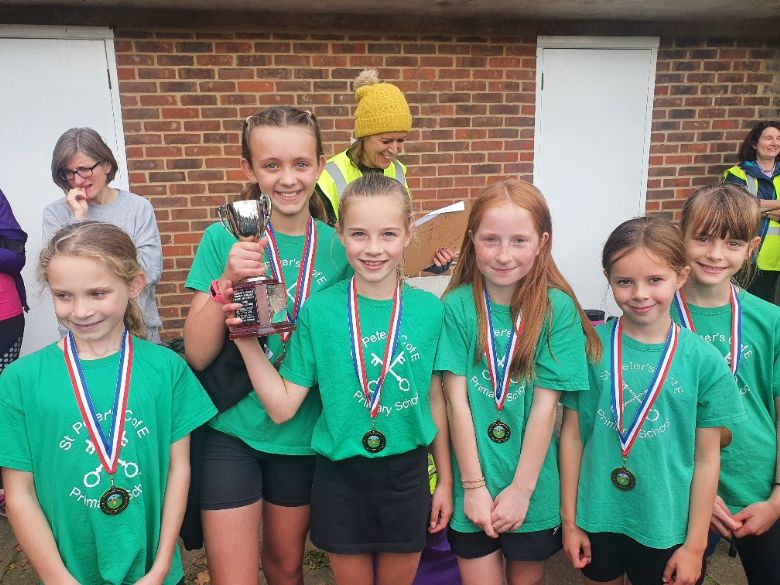 All children are entitled to two hours of PE per week. Since Autumn 2018, PE has been taught by specialist PE coaches who follow the National Curriculum. Children progress as they hone their agility and ball skills through playing a range of invasion drills and sports such as hockey, netball and football. Gymnastics and Dance are also taught giving children the opportunity to develop their skills to achieve a high standard of performance. The Daily Mile is also a part of the school day. There are further opportunities to practise sports and dance through clubs. In 2020 St Peter's achieved the Sports Mark Gold Award for the fifth consecutive year in recognition for participation and achievement in sports at all levels.
French
Children learn French as a foreign language from Y1. The language is taught using multi-media resources for listening and speaking. Grammar is taught in KS2. As well as learning to communicate in the French language, children also learn about French geography, culture and lifestyle. From 2018, all children from Y4 up have had the opportunity to exchange letters with a French child. Skype sessions have also taken place, which has really brought the language alive as children communicate with their pen pal.
Music
Children have the opportunity to enjoy musical experiences through listening, singing, movement and dance and by playing tuned and un-tuned percussion instruments. Currently all our Y4 pupils learn to play an instrument. They have the use of an instrument for the year and enjoy performing in assemblies and concerts. In addition to this whole year group opportunity, children are able to book individual instrumental lessons which are held during or after the school day. At present we can offer: guitar, piano, drums, violin and clarinet. Whether children learn an instrument inside or outside school they are encouraged to play in assembly and at special events.

There are many extra-curricular opportunities for children to take part in and these include: Young Voices (choir for KS1) and Pop Choir (KS2). The children taking part in clubs are invited to join many events and these include: carol singing in Farnham town centre, carol singing at the local Residential Home for the elderly, Farnham Music Festival and various occasions in church.
Evening Music Concerts for parents and family are held twice a year.
Art
St Peter's was awarded the Arts Mark Silver Award in 2017 as a recognition of the whole school learning which embraces The Arts. In our journey towards this, we invested resources in staff training to ensure that children receive quality instruction in their Art lessons. Children's skills develop in drawing, painting and other aspects of Art such as 3D modelling, sewing and collage. They also learn about the work of famous artists from around the world and often use an artist's work as a stimulus for their own work. We have a gallery where children's artwork is on display and changed regularly, demonstrating the value we place on Art as a subject and allowing children to take pride in seeing their work displayed.
DT
In Design and Technology, children learn to develop their creative skills using a range of media. The emphasis is on creating a design for a specific purpose, producing the design and evaluating the design's success using given criteria. Children learn to use a range of materials and become competent in using wood, fabric, paper and plastic to create their design. As far as possible, the design links in with another area of the curriculum.
Curriculum Support Learning
Cookery
We have a fully equipped children's kitchen. In addition to the statutory element of cookery in DT lessons, Cookery is now well established within the curriculum. This covers three year groups and is always planned to support a specific curriculum area. As an example, a class which is studying Ghana in Geography will include a typical Ghanaian dish in their Curriculum Cookery sessions. Children studying The Romans in History use a range of herbs to create the type of soup that would have been eaten by the Romans. Cookery instruction includes a progression of skills in that children use increasingly sophisticated culinary equipment. They also learn about food groups and how to make sensible choices regarding food. These are life skills which will set children up for the future. Cookery also involves working collaboratively, using maths skills, developing scientific knowledge and creativity. Feedback from children and parents has been very positive and we are continually reviewing the content to support other subject areas.
Forest School
Since early 2014, St Peter's Forest Schools has developed a new dimension to learning. We have two fully trained Forest School practitioners on our staff. While it was initially intended as an intervention for children who would benefit from support for social, communication and teamwork skills, it has now being extended to include all children. This was a result of feedback from children and parents.
Every class has two Forest School sessions a term. One focuses purely on Forest Skills; children are encouraged to take risks outside their comfort zone. They make fires, uses knives and tools and work as a team to solve problems in the natural environment. The other session is curriculum linked to support a specific area of study. As an example, a class studying the Anglo Saxons would spend the day learning some of the skills practised by their distant ancestors: weaving, wattle and daub building and making porridge on an open fire. Another class might use the session as stimulus for creative writing or an Art lesson while another, studying Judaism in RE, may build an outdoor Sukkot to develop their learning.
Forest School resources are also focused on children in EYFS and KS1 where we have seen the impact of this experience in developing speech and language, team work and motor skills. All EYFS children have regular sessions designed to support their development.
As an intervention, some children are selected to follow six sessions designed to enhance self-esteem or communication skills. Feedback from children and parents has been extremely positive and we share our expertise in this area with other local schools.
Yoga
All pupils at St Peter's participate in a Yoga session once a half term. This is taught by a professional teacher and focuses on supporting pupils to develop skills which help them in their daily lives. They learn to relax, breathe correctly and how to regulate their emotions. Pupils who are confident in themselves and in control become good learners.
How will I know how my child is doing?
Assessment and Reporting
Children's progress is assessed continuously in different ways, with formal assessments taking place each half term. This enables any concerns to be addressed and interventions to be put in place. Parents' Contact Evenings are held in the Autumn and Easter terms and a full report on your child's progress is sent home in the Summer term. Each child's progress is also discussed each term with the senior management team so that again, any child who is not making expected progress can be identified and targeted for support.
Will my child fit in at St Peter's?
The answer is 'YES'! St Peter's adopts an inclusive approach, welcoming children of all abilities. It is our job to challenge and develop independence and an enquiring mind in every child, whatever their ability.
Special Educational Needs and Disabilities (SEND)
St Peter's welcomes children of all abilities and talents. While in most cases quality teaching will adapt to a child's individual needs, there are times when an individual will need extra support either for a short time or for a sustained period of time. Children are supported in class in whichever way is most appropriate. We have trained staff who have specialisms in specific areas relating to learning and emotional needs. Additional support from the Local Authority will be sought in some cases and parents will be involved at all stages of their child's journey through education. The overriding aim for any child with SEND is for them to become independent in their learning and life skills. (see SEND local offer)
More Able
At St Peter's we believe that many children have the potential to excel in specific areas of the curriculum. We aim to uncover a child's latent talents. Where a child is identified as having a special talent or ability, teaching will be differentiated to ensure that suitable challenges are available. This may be through enrichment activities such as specific problems or research based activities or problems requiring more advanced thinking skills. There are also occasions when children are challenged in small groups either by a member of school staff or an external visitor. There are opportunities to collaborate with children from other schools in many areas of the school curriculum and Weydon School also organises challenges for specific Year 5 and 6 children.