British Council International School Award 2021-2024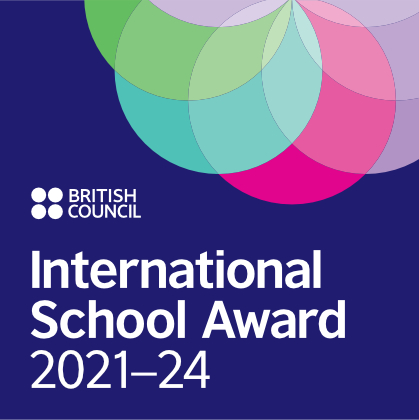 We followed up our first award up by being nominated as finalists in the national TES teaching awards 2019!
In August 2021 we were re-accredited with the full British Council International Award! Building on the work started back in 2016, we put together a rigorous action plan to achieve in the areas which we were missing. We needed to participate in collaborative learning with at least three overseas schools over the year- this was an exciting but daunting target! However, we were already doing so much to develop global learning in school.
Over the year, we established firm links with two French schools (Lille and Cannes) and established pen pals for all pupils in Y4,Y5 and Y6. Letters were exchanged each term - it was so exciting for the children to receive a hand written letter from their French friend. It was also challenging writing the letters in French!
We organised a fantastic off curriculum French Day and following the British Council's suggestion, we arranged Skype sessions so that the children could meet and communicate face to face! That was even better than the letters! We have continued the Skype links. Meanwhile our Ghana Club prepared a wall hanging for the new school building in Ghana, we had clubs running for Spanish and French language and we also joined the British Council's E-twinning Programme, participating in three collaborative learning projects. So much has happened in a year.
The following quote is lifted from the feedback from the British Council:
" This is a very good Impact Evaluation application from St Peter's CofE Primary School, which has embedded learning across the curriculum. I like that you celebrate your established partnership with UCC Future Leaders' School by including Ghana as a Geography topic and in DT, the latter in the form of the cooking of Ghanaian dishes. You have submitted more than the required seven international activities that must include three collaborative ones with a partner school abroad, and one that must show pupils learning a foreign language and about the culture of the country. All pupils are involved in the activities, which cover a variety of subject areas and are spread across the academic year 2017-18. You have added two more activities to your application, 'Etwinning - trees in our school environment', another stimulating Etwinning project, and 'Transatlantic Educators' Dialogue - collaborative CPD for staff', an acceptable international school-to-school development project that will have impacted on improved teaching practices and outcomes for pupils. I agree with the positive comments of the assessor of your Action Plan, and am pleased to see that you followed the suggestion to name the towns where your French partner schools are situated, and to use Skype on your French Day! As well as having a 'British Council International School Award' page on your website, I am impressed to see that you also have a 'Global Connections' page, and there are details of your international activities in newsletters, and pictures of them in your 'Gallery'. Your 'References…' and 'impact' sections are robust, and St Peter's has sound plans for future international work. I am happy to say that you have met the criteria for the Accreditation Level of the International Award. Congratulations! I wish you luck in the continuation of your international journey. "
One year earlier.......
In August 2017 were were awarded the British Council - International Award at intermediate level - recognising our work in the this area. We were delighted with the assessor's comments which included:
" Your school is clearly motivated and committed to developing and international dimension to your curriculum and whole school ethos, to promote citizenship and increased knowledge and understanding of other countries and aspects of their culture, while celebrating diversity in your own community." We are excited to begin our journey towards full accreditation which will require us to collaborate with learners in other countries. The learning about Ghana is enriching significant parts of your learning. The International dimension to your activities adds context and stimulation to some quite complex issues addressed in your activities."
Over the past three years we have been worked hard to develop a global dimension to our learning. As well as the Fair trade award, we have several English units which focus on current world issues such as slavery, children's rights and concerns for the world's resources. We have celebrated learning about life for Ghanaian children and have also welcomed visitors from abroad and visitors who have told us about their faith.
Back in 2017 we combined our Fair trade learning to coincide with World Book Day. Over the week all classes studied Art and Literature from different African countries, learning about their art and storytelling traditions. Our Curriculum Cookery includes recipes from around the world to support the curriculum topic - giving children the opportunities to create and taste different foods and flavours. In July 2017 we were delighted to be chosen to represent England at the opening ceremony of the World Lacrosse Championships - this gave our Y5 children a wonderful opportunity to be part of an event which represented 27 countries from around the world. It was streamed live and is available to view on Youtube!
Three years on and we are continuing to develop global learning and integrate international awareness into our curriculum. Our pupils will be working in a world where people across the world are increasingly connected and interdependent. We believe that the primary school experience at St Peter's gives our pupils a good start and encouragement to look outwards - beyond themselves.