New News Story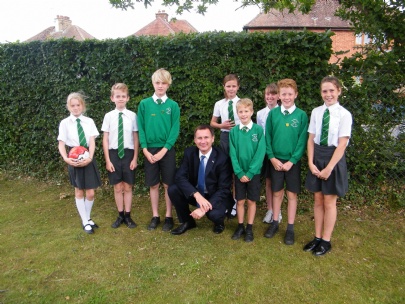 Here are a few of our Yr 6 children discussing 'international trade' with our local MP, the Health Secretary, Jeremy Hunt. Mr Hunt had responded to letters that the children wrote during Fairtrade Fortnight asking for his support to encourage Waverley to become a Fairtrade borough.
The children had prepared a presentation about our school being a Fairtrade Achiever school and also talked about our link with the school in Ghana. Mr Hunt had questions for the children which they handled in a very professional way. He also responded to some of their questions.
Mr Hunt was impressed with their enthusiasm and told them that it is so important for young people to learn about other parts of the world and to think about people who live in different circumstances. He stated that with this kind of thinking, they will understand the world and be able to contribute in a big way when they are older.
His visit ended with a group of children from Y5 performing their Fairtrade Song, written by 2 of our pupils.
Mr Hunt is going to write to Pritty Patel, the Minister for International Development on our behalf, raising some of the children's questions.
More photos can be found in the gallery