Potted History Project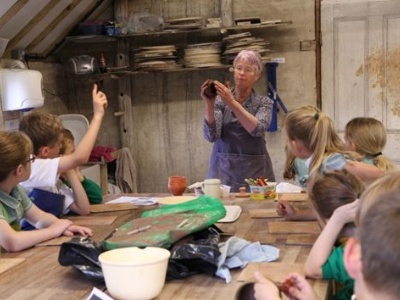 At the end of April 2016 we were awarded grants from the Ernest Cook Trust, South Street Trust and the Farnham Institute Charity towards our Potted History Project. The money paid for the workshops and material costs for the kiln reconstruction and pot-making.
'Potted History' was a unique arts and history project implemented by St Peter's C of E Primary School of Wrecclesham, on the outskirts of Farnham, Surrey. Through use of its own Forest School, engagement with local archaeologists, and workshops with Farnham Pottery (the best-preserved example of a Victorian country pottery in the country), the project aimed to develop the children in Key Stage 2's historical and artistic understanding of pottery and how it is fired.
In order for them to fully engage with the material and 'bring the pots to life', a creative approach to understanding the different stages of pottery production and processes in its 'lifecycle' was implemented, and Potted History was thus born.
The main processes involved included:
Production – forming the pots – working with the West Street Potters at Farnham Pottery in Wrecclesham to use local clay and make pots first-hand in the style of the period of history the students studied that year.
Production – firing the pots – with the help of an ancient pottery technology specialist, reconstructing a Roman-type kiln in the Forest School grounds, which the pots will then be fired in, allowing them to appreciate the effort and expenditure that would have gone into its construction and of the craft in general.
Function (and aftermath) – use (and disuse) of the pots – working with the lead archaeologist from Finding Farnham as part of in-school workshops involving various historical pots and ceramic sherds to learn about their function when they were in use and part they played in people's lives, as well as their importance in the archaeological record.
An exhibition was also held in the school for the parents, potters and local community, where the children exhibited their pots and wrote about their experiences.